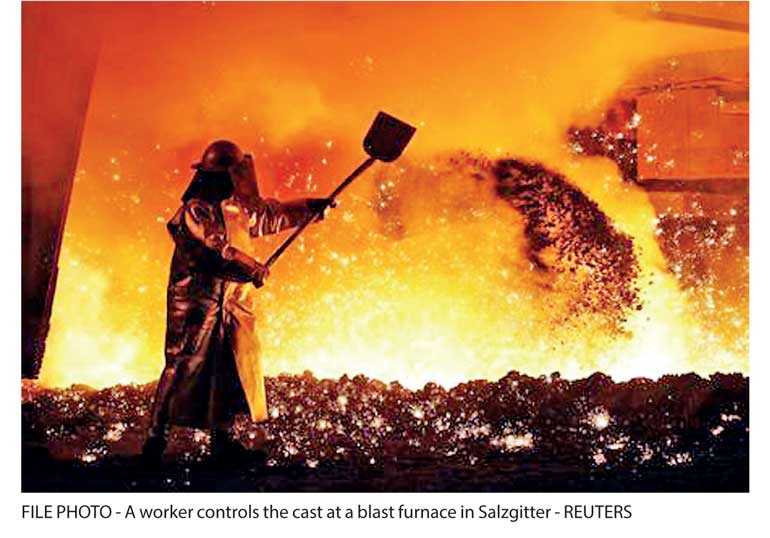 REUTERS: Euro zone business growth slowed more than expected this month as fears over a trade war with the United States and a weaker global expansion put another dent in optimism, a survey showed on Tuesday.

But growth remained robust, and as it was accompanied by rising prices, the survey is unlikely to concern policymakers at the European Central Bank too much as they look to move away from their ultra-loose monetary policy.

IHS Markit's Euro Zone Composite Flash Purchasing Managers' Index (PMI), seen as a good guide to economic health, dipped in July to 54.3 from June's 54.9, coming in below all forecasts in a Reuters poll in which the median was 54.8.

Anything above 50 indicates growth.

"You have still got a decent pace of growth. (But) it looks like the rate of growth will continue to ease because each index you look at is suggestive of growth weakening," said Chris Williamson, chief business economist at IHS Markit.

The future output index fell to 63.0 from 63.4, its lowest since late 2016.

"In July we have seen a big increase in the number of companies reporting they are worried about global economic growth and the impact of trade wars escalating."

The United States has imposed tariffs on Chinese imports, while threatening more, and U.S. President Donald Trump has labelled the European Union a trade foe.

Still, if maintained the latest PMIs point to 0.4% economic growth in the third quarter, Williamson said. That is a tad weaker than the 0.5% predicted in a Reuters poll last week.

A PMI covering the bloc's dominant service industry fell to 54.4 from June's 55.2, missing expectations for a shallower drop to 55.0.

Worryingly for firms and also pointing to no pick-up, new business growth was at one of its weakest rates since the start of last year. The sub-index fell to 53.7 from 54.9.

However, manufacturers had a better July than expected. The factory PMI rose to 55.1 from 54.9, beating the median expectation for 54.6.

An index measuring output – which feeds into the composite PMI – held steady at 54.2.

But factories slowed their purchasing of raw materials. The quantity of purchases index fell to 53.0 from 53.3, its lowest since September 2016.