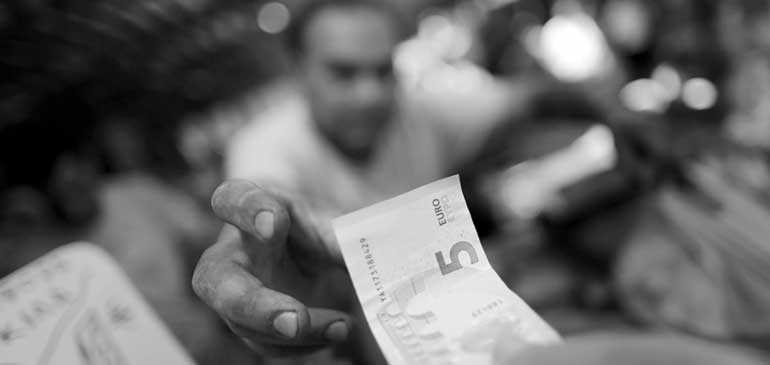 A vendor receives a five Euro bank note from a customer at the central market in Athens, Greece, 8 July – Reuters
LONDON (Reuters): The euro rose above $1.17 to a two-week high on Friday after weaker-than-expected US inflation data continued to weigh on the dollar and a broader recovery in investment sentiment supported the single currency.

The Turkish central bank's decision on Thursday to hike interest rates sparked a recovery across emerging market assets while hopes of a new round of trade talks to reduce tensions between United States and China buoyed broader market sentiment further on Friday.

"The bigger move is the US dollar. It's a continuation of yesterday after weaker US inflation data," said Esther Reichelt, an analyst at Commerzbank in Frankfurt.

"The market is focused on whether the improvement in sentiment and the recovery in emerging markets will continue."

The euro rose 0.2 percent to $1.1714 EUR=, its highest since Aug. 30, while the dollar index fell.

The European Central Bank kept policy unchanged as expected on Thursday, staying on track to end its bond purchases this year and raise interest rates next autumn. The policy meeting's impact on the euro was minimal.

Weaker US inflation data continued to hurt the dollar. The US consumer price index (CPI), the government's broadest inflation gauge, rose just 0.2 percent in August and less than the 0.3 percent projected by analysts in a Reuters poll.

Emerging currencies, like the South African rand and the Mexican peso, held onto to gains after a big rise, as investors welcomed Turkey's central bank's move to hike policy rate to 24 percent to restore confidence in the lira. The Turkish lira fell slightly to 6.040 per dollar TRY= after ending the previous day on a gain of more than 4 percent.

The lira surged after Turkey's central bank raised its benchmark one-week repo rate by 625 basis points to 24 percent on Thursday, in a bid to stabilise the currency, which had slumped to a record low against the dollar a month ago. China's offshore yuan slipped 0.1 percent to 6.8475 CNH=.

Data released on Friday showed China's investment growth for August fall to a new record low, while industrial output and retail sales for the month both rose by more than expected.

The Australian dollar, seen as a proxy for China-related trades as well as a barometer of risk sentiment, rose 0.2 percent to $0.7207.

The Aussie is on track for a more than 1 percent gain on the week, having pulled back from a 2-12-year low of $0.7085 plumbed on Tuesday.

Adam Cole, chief currency strategist at RBC, said the Aussie had fallen as it was a proxy for managed Asian currencies.

"Nonetheless, our bias is to look for opportunities to use recent Australian dollar weakness to play the topside," he said.

The yen rose to 111.83 JPY= versus the dollar, up 0.1 percent on the day.