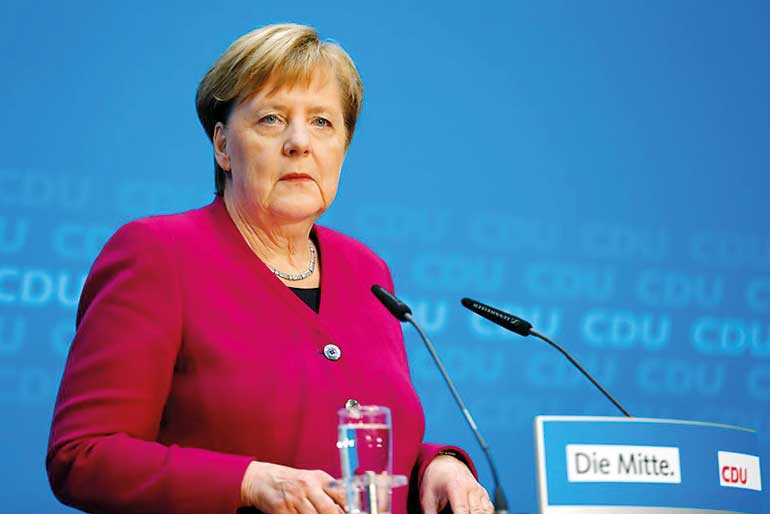 German Chancellor Angela Merkel attends a news

conference following the Hesse state election in Berlin, Germany - REUTERS
BERLIN (Reuters): German Chancellor Angela Merkel told leaders of her conservatives on Monday that she will not seek re-election as Party Chairwoman, senior party sources said, heralding the end of a 13-year era in which she has dominated European politics.

Merkel, 64, has been Chairwoman of her conservative Christian Democrats (CDU) since 2000 and chancellor since 2005. Party sources said Merkel wants to remain chancellor until 2021, when the next Federal election is due.

The announcement, which effectively accelerates the process for the CDU to settle on and groom Merkel's successor, caused the euro to fall briefly and German Government bond yields rose.

Stepping down as CDU Chairwoman would further undermine Merkel's authority, which has already been dented this year by two Regional election setbacks and a close ally losing his role as leader of her conservatives' Parliamentary group.Merkel has loomed large on the European stage since 2005, helping guide the EU through the euro zone crisis and opening Germany's doors to migrants fleeing war in the Middle East in 2015 – a move that still divides the bloc and Germany.

Monday's news came as a surprise to CDU party officials, who had expected Merkel to seek re-election as Chairwoman at a party congress in Hamburg in early December.

The shock move started the race in the CDU to succeed Merkel. It also raises questions about whether she can stage manage a smooth exit.

Merkel is under pressure from her Social Democrat coalition partners to deliver more policy results and the centre-left party could yet pull out of the Government at a mid-term review next year.

Germany's other leader CDU chancellors – Konrad Adenauer and Helmut Kohl – both had messy ends to their time in Office.