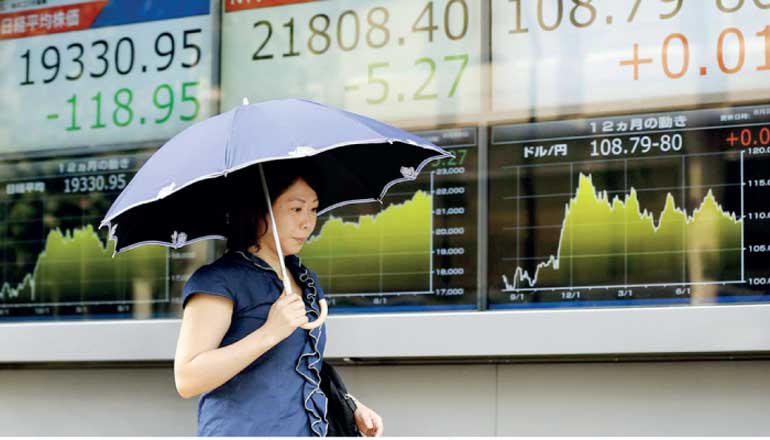 Singapore (Reuters): The dollar rebounded from a 2-1/2-year low on Wednesday, and Asian stocks took their cue from Wall Street's higher close, as concerns about North Korea's firing of a missile over Japan ebbed.

The dollar index, which tracks the greenback against a basket of six major peers, edged up 0.1% to 92.317.

The dollar rose 0.1% to 109.8 yen. On Tuesday, after slumping to a 4-1/2-month low versus the safe haven currency, the greenback closed up 0.5%.

The yen tends to benefit during times of geo-political or financial stress as Japan is the world's biggest creditor nation and there is an assumption that Japanese investors will repatriate funds in a crisis.

The dollar was also little changed against the safe haven Swiss franc, buying 0.9552 francs on Wednesday, after hitting its lowest since August 2015 in the previous session. "Calmer heads have prevailed once again in financial markets, with traders seemingly happy to cover short positions and add a touch of risk into their portfolio," said Chris Weston, Chief Market Strategist at IG in Melbourne.

The South Korean won strengthened 0.4%, with the dollar buying 1,121.9 won, recovering some of Tuesday's 0.6% slide.

The United Nations, in a statement drafted by the United States, condemned the test but held back on any threat of new sanctions on the isolated state.

Markets seemed to be dismissing North Korea's statement on Wednesday that the test was a first step in military action in the Pacific to "contain" the U.S. territory of Guam.

Reports of the launch by North Korean media were lacking the usual boasts of technical advances, indicating the test may not have accomplished its intended goals. Currency traders are now looking to U.S. non-farm payrolls data for August, due on Friday, following data that showed U.S. consumer confidence surged to a five-month high in August as the labor market improved and house prices rose.

"The market tone markedly improved as traders adopted a 'this too shall pass' attitude," said Stephen Innes, head of Asia Pacific trading at OANDA in Singapore.

"A boisterous U.S. consumer confidence number, coupled with a much tamer response than anticipated from President Trump may explain part of the reversal."

U.S. 10-year Treasury yields were at 2.1484% on Wednesday, after touching a 9-1/2-month low of 2.086% on Tuesday.

MSCI's broadest index of Asia-Pacific shares outside Japan advanced 0.35%. South Korea's KOSPI share index rose 0.1%, while Australian shares were little changed. Japan's Nikkei rose 0.55%. Japanese retail sales growth slowed in July but still grew for a ninth consecutive month, suggesting the underlying trend for consumption remains healthy. However, household spending unexpectedly fell in July, injecting some caution into the debate about whether domestic demand can continue to drive growth.

Chinese blue chips added 0.2%, and Hong Kong's Hang Seng climbed 0.7%.

In commodities, gasoline hit a near-two-year high after Hurricane Harvey shut down nearly a fifth of U.S refining capacity, and more closures are expected.

US gasoline futures rose 3.1% to $1.8378, bringing gains this week to 10.3%.

The rise in crude inventories as a result of refinery shutdowns, however, weighed on oil prices.

US crude futures CLc1 fell 0.2% to $46.34 a barrel, after touching a five-week low on Tuesday.

Global benchmark Brent slipped 0.2% to $51.88.

Spot gold inched up 0.2% to $1,313.10 an ounce on Wednesday. On Tuesday, the precious metal jumped to its highest since Trump was elected U.S. president, before closing flat.