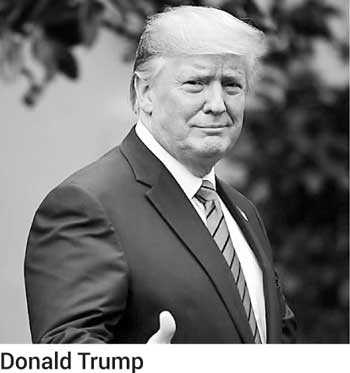 WASHINGTON (Reuters): Democrats are urging people who might have more information about President Donald Trump's effort to persuade Ukraine to investigate political rival Joe Biden to come forward as Trump struggles to contain the fallout from the scandal.

A whistleblower report, released on Thursday, said Trump not only abused his office in attempting to solicit Ukraine's interference in the 2020 US election for his political benefit, but that the White House tried to "lock down" evidence about that conduct.

At issue is a 25 July phone call that Trump had with Ukrainian President Volodymyr Zelenskiy to congratulate him on his election victory. In the call, according to a summary released by the Trump administration on Wednesday, Trump asked Zelenskiy to investigate Biden and his son Hunter, who worked for a Ukrainian gas company for several years. Trump has repeatedly suggested wrongdoing by Biden and his son but has offered no evidence to back up the assertion. Biden, a former vice president, is a leading contender in the Democratic race to take on Trump in the 2020 presidential election. A growing number of Democrats say the call was an abuse of Trump's position and want to see him impeached. But the chances of the Republican president being removed from office look slim since his party controls the Senate where an impeachment trial would be held.

Democrat Adam Schiff, who chairs the House of Representatives Intelligence Committee and is one of Trump's biggest opponents, called for more people to come forward who have knowledge of the Ukraine case. "I'm hoping that these witnesses will choose to cooperate, will volunteer. But I have to say I am deeply worried now that the president, on the eve of our hearing or during our hearing, was threatening these witnesses," Schiff told CNN on Thursday. Schiff spoke after Trump said he wanted to know who provided information to the whistleblower, according to an audio recording provided to the Los Angeles Times by an attendee. "I want to know who's the person, who's the person who gave the whistleblower the information. Because that's close to a spy," Trump can be heard saying on the recording, made during his remarks in New York on Thursday to staff from the US mission to the United Nations. "You know what we used to do in the old days when we were smart? Right? The spies and treason, we used to handle it a little differently than we do now," Trump said. The White House did not dispute the comments. "Threats of violence from the leader of our country have a chilling effect on the entire whistleblower process, with grave consequences for our democracy and national security," said a joint statement on Thursday night by three Democratic House Committee Chairmen – Schiff, Eliot Engel of Foreign Affairs and Elijah Cummings of Oversight.