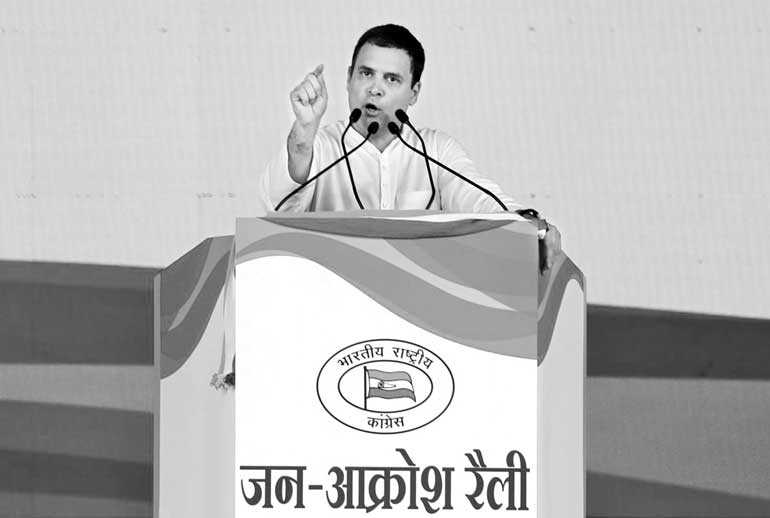 India's main opposition Congress party President Rahul Gandhi addresses his

supporters during a rally described as 'Jan Aakrosh', or public anger, at Ramlila ground in New Delhi, India – REUTERS
NEW DELHI (Reuters): India's main opposition Congress party on Thursday lashed out at Prime Minister Narendra Modi after Reserve Bank of India (RBI) data showed that his shock 2016 move to ban high-value notes failed to meet his key objective of flushing out money hidden from the tax man.

Modi withdrew 500 and 1,000 rupee notes from circulation to make hoarded cash, or black money, worthless. It aimed to bring billions of dollars' worth of cash in unaccounted wealth into the mainstream economy and to hit the finances of militant groups suspected of using fake 500 rupee notes to fund operations.

But the move, widely known as demonetisation, badly hurt India's cash-dependent economy and caused tremendous hardship to people forced to line up outside banks before the notes ceased to be legal tender.

Data released on Wednesday by the RBI showed that almost the entire amount of withdrawn currency had returned to banks, meaning Modi may have misjudged cash hoarding.

The data gave Congress a major issue to hit back at Modi months before three big state polls and a general election due early next year.

"The PM had promised that black money, terror funding, and fake currency will be eradicated," Congress chief Rahul Gandhi, the fourth-generation politician from the fabled Nehru-Gandhi dynasty, told a news conference.

"The RBI annual report proves that all his objectives failed," said Gandhi, adding he believed the demonetisation was meant to benefit a handful of Modi's "capitalist friends".

Tax-compliant

Congress then flooded its Twitter page with graphics purporting to show that demonetisation had cost India 1.5 million jobs, some INR 80 billion ($ 1.13 billion) in printing of new notes, and a 1.5% drop in economic growth.

Modi's Office did not immediately respond to an email after business hours on Thursday seeking comment on the Congress accusations.

Finance Minister Arun Jaitley, one of Modi's top trouble shooters, said demonetisation had helped India to move from a "tax non-compliant society to a tax-compliant society".

He said the number of income tax returns filed in 2017/18 nearly doubled to around 69 million from the levels of 2013/14.

"When cash is deposited in the banks, the anonymity about the owner of the cash disappears," Jaitley said in a Facebook post. "The deposited cash is now identified with its owner giving rise to an inquiry, whether the amount deposited is in consonance with the depositor's income."

Since demonetisation, he said, about 1.8 million depositors had been identified for enquiry, with many of them penalised.

Modi has said the cash ban was a success because "our intention was to bring all money into the formal banking system and we achieved success in completing the task".

More than four years in office, Modi remains the most popular politician in India and likely to win another term. But, his popularity fell below 50% for the first time in July from 53% in January, a survey by India Today magazine showed.