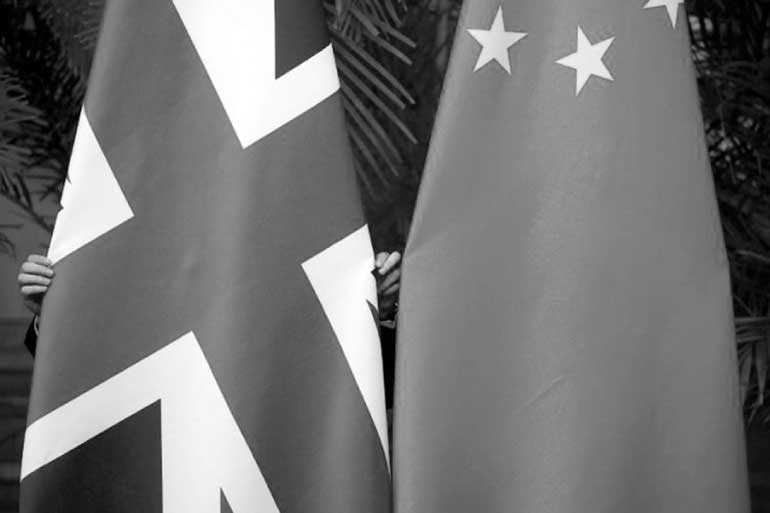 FILE PHOTO - A worker adjusts British and China (R) national flags on display for a signing ceremony at the seventh UK-China Economic and Financial Dialogue "Roundtable on Public-Private Partnerships" at Diaoyutai State Guesthouse in Beijing, China – REUTERS/File Photo
BEIJING/SHANGHAI (Reuters): China on Friday warned Britain ties were at risk unless it took steps to "rectify" the situation, after a British warship sailed close to South China Sea islands claimed by China, while a major newspaper said sealing a free trade deal could now be harder.

China was infuriated by the HMS Albion, a 22,000-ton amphibious warship, sailing near the Paracel Islands last month, calling it a "provocation". The Paracels are occupied entirely by China but also claimed by Vietnam and Taiwan.

China and Britain, which have talked of a "golden era" of relations, agreed last month to look at the possibility of reaching a "top notch" post-Brexit free trade deal that promises an important political win for the conservative government.

But the Royal Navy's mission in the South China Sea, one of China's most sensitive issues, risks undermining the relationship.

"Britain's actions were wrong," Chinese Foreign Ministry spokeswoman Hua Chunying told a daily news briefing.

"They clearly violated the consensus and spirit put forward by Britain's leadership that they wished to build a golden era in ties with China. This certainly will unfavourably influence the further development of the China-Britain relationship."

Hua added: "We hope that Britain can recognise the severity of the issue and take actions to rectify the situation". She did not elaborate.

There could be real consequences for Britain, the official China Daily newspaper said in an editorial.

"China and the UK had agreed to actively explore the possibility of discussing a free trade agreement after Brexit. Any act that harms China's core interests will only put a spanner in the works," it said.

Britain has long courted China for a post-Brexit trade deal, though any formal talks could not begin until it officially leaves the European Union next year and typically take many years to conclude.

Senior Chinese and British officials are expected to meet in Britain in the autumn for further economic talks led by Vice Premier Hu Chunhua and finance minister Philip Hammond.

China's claims in the South China Sea, through which some $3 trillion of shipborne trade passes each year, are contested by Brunei, Malaysia, the Philippines, Taiwan and Vietnam. Britain does not have any territorial claims in the area.

The China Daily said Britain was trying to "curry favour" with the United States, which has been pushing for greater international participation in freedom of navigation operations in the strategic waterway.

"Now that it is eyeing the US as an economic lifeline after it exits the European Union - the United Kingdom is no doubt eager to seize whatever opportunity it can to get into Washington's good books," the English-language newspaper said.

The situation in the South China Sea has stabilised, with the joint efforts of China and Southeast Asian countries, the country's defence ministry said in a statement responding to the Royal Navy action.

"Certain countries from outside the region pay no heed to this, and send military ships and aircraft to the South China Sea to foment trouble, creating problems where none exist, threatening regional peace and stability," it added.

China has repeatedly denounced what it views as such interference, generally a message to the United States and its allies to stay out of the maritime dispute.