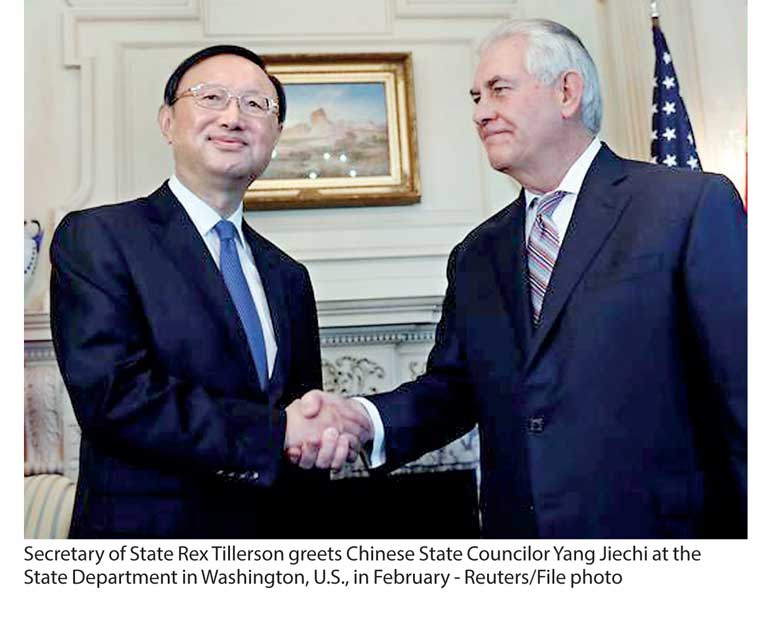 Beijing (Reuters): The United States must value Pakistan's role in Afghanistan and respect its security concerns, China's top diplomat Yang Jiechi told U.S. Secretary of State Rex Tillerson in a phone call, according to Chinese state media.

China's Foreign Ministry defended its ally Pakistan earlier this week after President Donald Trump said the United States could no longer be silent about militants using safe havens on Pakistani soil.

On Monday, Trump committed the United States to an open-ended conflict in Afghanistan, signalling he would send more troops to America's longest war and vowing "a fight to win".

He insisted that others - the Afghan government, Pakistan, India and NATO allies - step up their own commitment to resolving the 16-year conflict, but he saved his sharpest words for Pakistan.

Yang, who outranks China's foreign minister, told Tillerson on Wednesday that China was willing to coordinate with the United States on Afghanistan and make joint efforts to realise peace and stability there and in the region, according to a Chinese statement issued late that night.

"We must value Pakistan's important role on the Afghanistan issue, and respect Pakistan's sovereignty and reasonable security concerns," Yang told Tillerson.

Pakistan has been battling home-grown Islamists for years. It sees Afghanistan as a vital strategic interest and a bulwark against old rival, India. Islamabad denies harbouring militants, who move across the porous border with Afghanistan.

China and Pakistan consider each other "all-weather friends" and have close diplomatic, economic and security ties.

Beijing has its own security concerns in the region, in particular any links between militants in Pakistan and Afghanistan and Islamist groups China blames for violence in its far western region of Xinjiang.

Foreign Minister Wang Yi met Pakistani Foreign Secretary Tehmina Janjua in Beijing on Tuesday, according to a statement on Thursday. He praised Pakistan's efforts to combat extremism and to secure the China-Pakistan Economic Corridor, a development initiative central to President Xi Jinping's global Belt and Road development plan.

"Given the current complicated and changing international and regional situation, the strategic significance of China-Pakistan relations is even more prominent," Wang said.
Pakistan's PM, military meet to respond to Trump's criticism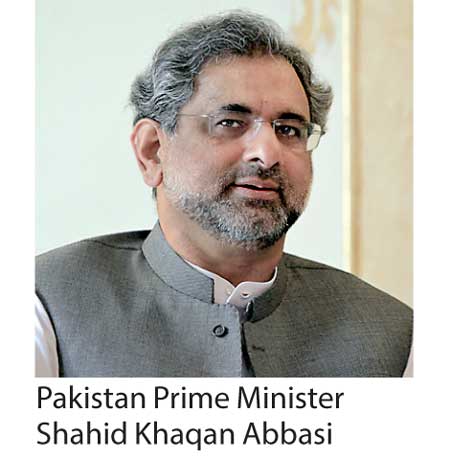 Islamabad (Reuters): Pakistan Prime Minister Shahid Khaqan Abbasi will meet with powerful Pakistani generals on Thursday to formulate a response to the new U.S. policy on Afghanistan that includes greater pressure on Islamabad to do more to rein in militants.

President Donald Trump has chastised Pakistan for harbouring "agents of chaos" and providing safe havens to militant groups waging an insurgency against a U.S.-backed government in Kabul, saying Islamabad must promptly change tack.

White House officials have gone further and threatened aid and military cuts, as well as other measures to force nuclear-armed Pakistan's hand and bring about an end to the 16-year-war.

Abbasi has not responded yet to Trump's remarks but Foreign Minister Khawaja Asif said Washington should not use Pakistan as a "scapegoat" for its failures in America's longest running war. Pakistan denies harbouring militants.

As is often the case with Pakistan, the final decision about how to proceed rests with the military, which has ruled the country for nearly half its 70-year history. It calls the shots on key parts of Pakistan's foreign policy, including ties with the United States, Afghanistan and arch-foe India.

Army Chief General Qamar Javed Bajwa, who will be part of the National Security Council meeting on Thursday, a day earlier met with US Ambassador David Hale and said Islamabad wanted trust and understanding rather than US aid money.

Pakistani officials bristle at what they say is a lack of respect by Washington for the country's sacrifices in the war against militancy and its successes against groups like al Qaeda, Islamic State or the Pakistani Taliban.

Pakistan estimates there have been 70,000 casualties in militant attacks since it joined the US "war on terrorism" after the 11 September 2001, attacks on the United States.

"We feel the American administration led by Mr Trump has been totally one sided, unfair to Pakistan and does not appreciate and recognise Pakistan has been a pivotal player...in the campaign against terrorism," Senator Mushahid Hussain, chairman of the senate defence committee, told Reuters on Thursday.

Pakistani officials have also been angered by Trump imploring old rival India to play a greater role in reconstructing Afghanistan, warning a greater Indian role in Kabul could be a threat to regional peace.

Pakistan fears New Delhi's greater influence in Afghanistan would leave it sandwiched by India, its bigger neighbour against whom it has fought three wars since independence in 1947.