BEIJING (Reuters): China hopes to work with Japan to get relations back onto a normal track, Chinese Foreign Minister Wang Yi told his Japanese counterpart on Sunday, amid a series of disputes, some dating back to before World War Two.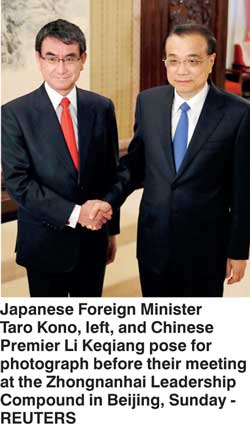 China and Japan have long sparred over their painful history, with Beijing frequently accusing Tokyo of not properly atoning for Japan's invasion of China before and during the war.

Ties between China and Japan, the world's second- and third-largest economies, have also been plagued by a long-running territorial dispute over a cluster of East China Sea islets and suspicion in China about efforts by Japanese Prime Minister Shinzo Abe to amend Japan's pacifist constitution.

However the two countries have sought to improve ties, and Abe and Chinese President Xi Jinping met in November on the sidelines of a regional summit in Vietnam.

Wang told Japanese Foreign Minister Taro Kono that his trip to Beijing, coming so early in the year, showed Japan's strong wish to improve relations, and China approves of this as better ties are in both nation's interests.

However, while there has been positive progress there are also many "disturbances and obstacles", Wang said, while also noting comments from Abe on wanting to improve relations.

"China-Japan ties always sail against the current, either forging ahead or drifting backward," Wang said, in comments made in front of reporters.

"We hope that the Japanese side will neither relax in its efforts nor fall back, and turn the spoken statements into concrete actions..."

Kono said that the two countries shared a major responsibility in safeguarding the stability and prosperity of Asia and the world at large.

"Not only do we need to manage our bilateral relations, but we also need to work together to deal with issues facing the entire globe, in particular the issue of North Korea, which is the matter at hand for international society as a whole. We desire to extend mutual cooperation between our two countries in working toward resolving this issue."

Japan has repeatedly pressed China to do more to help rein in North Korea's missile and nuclear programmes. China says it is committed to enforcing U.N. sanctions, but that all parties need to do more to reduce tensions and restart talks.