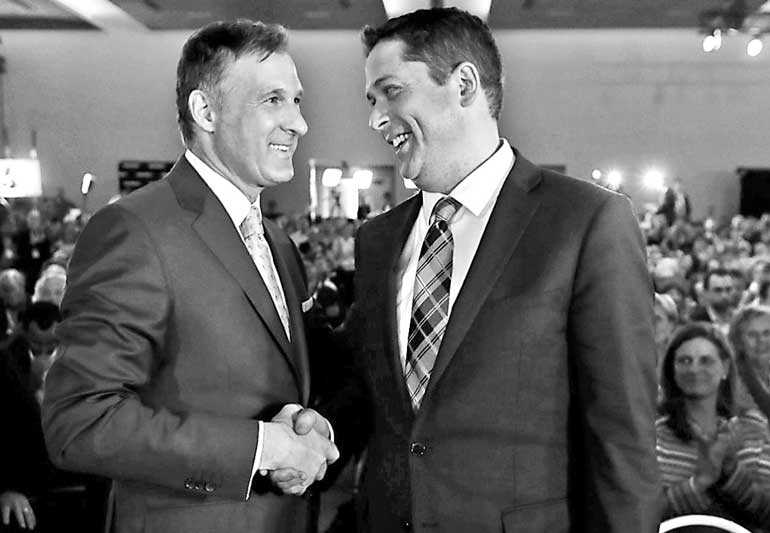 Maxime Bernier speaks with Andrew Scheer (R) after the first results are announced during the Conservative Party of Canada leadership convention in Toronto, Ontario, Canada, May 27, 2017 – REUTERS/Files
OTTAWA (Reuters): Canada's opposition Conservatives face a potential split a year ahead of national elections after a prominent former cabinet minister quit the party on Thursday to form his own right-leaning faction, focused on limited immigration and promoting free trade.

Maxime Bernier, who failed in his bid to lead the Conservative Party more than a year ago, said he hoped to have an alternative party up and running within weeks to challenge Liberal Prime Minister Justin Trudeau in the 2019 election.

"He has decided today to help Justin Trudeau," Conservative Party leader Andrew Scheer told a news conference, condemning the defection as one driven by personal ambition. "Other conservatives and Canadians who want a responsible government in power will continue to work with us."

Trudeau, speaking with reporters after Cabinet meetings in British Columbia, dodged direct questions on Bernier. "I'm going to let Conservative focus on themselves, as they are right now, and we're going to stay focused on Canadians," he said.

The Conservatives – recently neck and neck in polls with Trudeau's Liberals – split into two factions in 1987, but reunified the party in 2003 and later held power for nearly a decade under former prime minister Stephen Harper.

Speaking out against "fake news" and saying the Conservatives under Scheer were "too intellectually and morally corrupt to be reformed," Bernier announced his split in Ottawa just as the party was gathering in Halifax for its annual convention.

"The Conservative party has abandoned conservatives. It does not represent them anymore. And it has nothing of substance to offer Canadians looking for a political alternative," Bernier said.

Bernier sparked a fierce debate earlier this month when he posted a series of tweets denouncing the prime minister's push for diversity, saying Trudeau's "extreme multiculturalism" will destroy Canada.

Scheer, who defeated Bernier in a leadership race to replace Harper, sought to distance the party from the tweets.

Canada's ethnic vote is crucial to all three major parties, particularly in densely populated and immigrant-rich communities in the provinces of Ontario and Quebec.

Bernier also opposes the system of supply management that supports Canada's politically powerful dairy farmers and which has been attacked by US President Donald Trump. He said he could make a trade deal with Trump by abandoning the system.

Bernier is a second-generation politician and former foreign minister, a libertarian free-market champion who is also remembered for being dumped from Harper's cabinet after leaving confidential documents at the house of a girlfriend with links to organised crime.

"Whether Bernier becomes a real or phantom political force in Canada – the narrative that the Conservatives may be divided will be a major distraction for Conservative leader Scheer," said pollster Nik Nanos in an email.