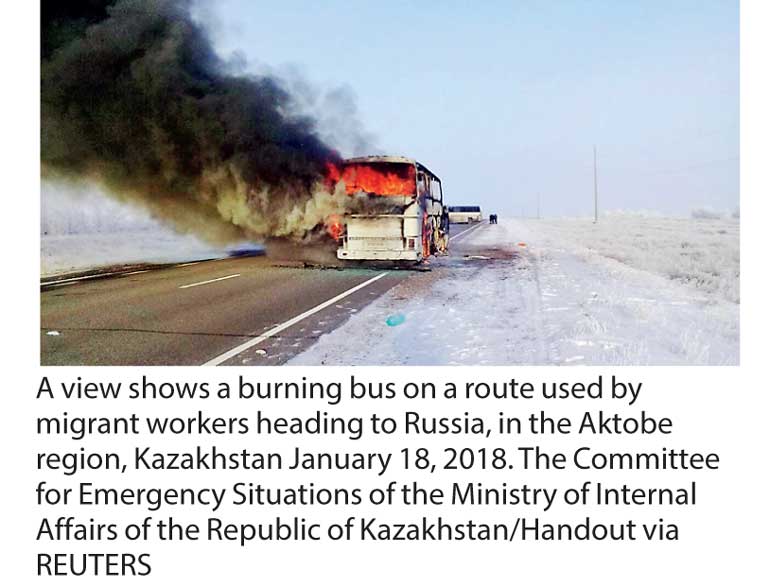 Almaty (Reuters): A bus fire in northwestern Kazakhstan killed 52 Uzbek citizens on a route used by migrant workers heading to Russia, the Kazakh Interior Ministry said on Thursday.

The bus was travelling along a road in the remote Aktobe region that links the Russian city of Samara to Shymkent, a city in southern Kazakhstan close to the Uzbek border.

It was unclear in which direction the bus, a Hungarian-made Ikarus, had been travelling, but the route is widely used to transport Uzbek workers to and from Russia where they often take work on building sites.

Only five people managed to escape the burning vehicle, the interior ministry's emergencies department said in a statement.

The ministry said the apparent accident had happened at 10.30 a.m. (0430 GMT), but provided no details about its cause.

A photograph posted online from the site showed the bus completely burnt out. Video footage also posted on the Web showed it positioned diagonally across a two-lane freeway in the middle of a snow-covered steppe, in flames and emitting heavy black smoke.

Uzbekistan's foreign ministry said in a statement its embassy staff were en route to the area, roughly midway between the Russian border and the Aral Sea.

Last October, another Kazakh-operated bus carrying over 50 Uzbeks was hit by a train in Russia after getting stuck on the tracks; 17 people died in that accident.