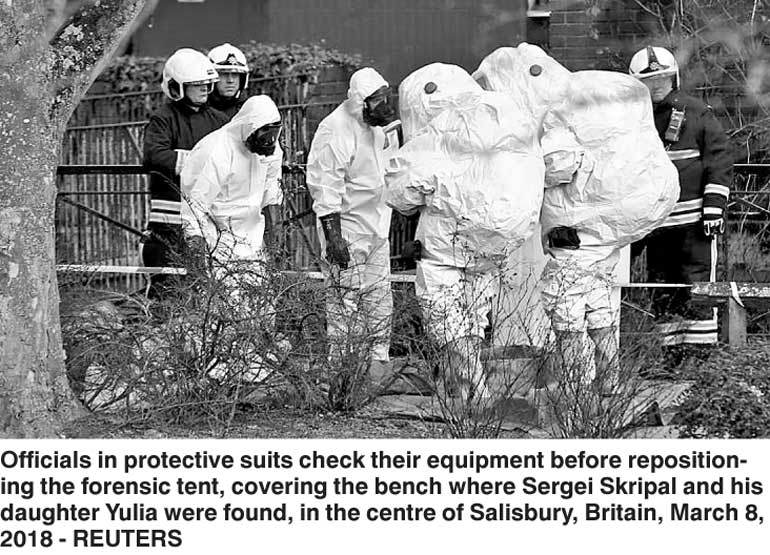 LONDON (Reuters): Britain will respond appropriately if evidence shows Moscow was behind a nerve agent attack on a former Russian spy and his daughter in England, Prime Minister Theresa May said on Thursday.

Former double agent Sergei Skripal, 66, and his daughter Yulia, 33, have been in hospital since they were found unconscious on Sunday on a bench outside a shopping centre in the quiet cathedral city of Salisbury.

"We will do what is appropriate, we will do what is right, if it is proved to be the case that this is state-sponsored," May told ITV News, when asked whether Britain could expel the Russian ambassador.

"But let's give the police the time and space to actually conduct their investigation," she added, in her first comments on the attack since police said on Wednesday a nerve agent was used.

Government experts have identified the substance, which will help identify the source, but have not made the information public.

"Of course, if action needs to be taken, then the government will do that. We'll do that properly, at the right time, and on the basis of the best evidence," May said.

Both victims remain unconscious, in a critical but stable condition, while police officer Detective Sergeant Nick Bailey, who was also harmed by the substance, remains in a serious condition.

"He's well, he's sat up. He's not the Nick that I know but of course he's receiving a high level of treatment," said Kier Pritchard, head of Wiltshire Police, after visiting Bailey in a hospital intensive care unit.

"He's very anxious, he's very concerned. He did his very best on that night."

A total of 21 people had been treated in hospital following the incident, Pritchard said. In parliament, several lawmakers defied interior minister Amber Rudd's plea to avoid speculation about who was responsible for the "brazen and reckless act". Some called for investigations to be re-opened into the deaths of Russian exiles in Britain in recent years.