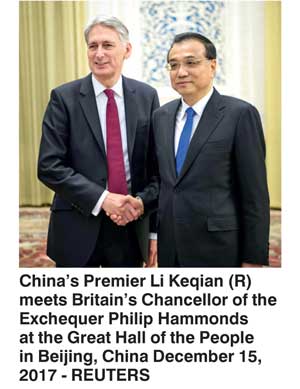 BEIJING/LONDON (Reuters): Britain wants closer cooperation with China over its landmark Belt and Road infrastructure scheme, finance minister Philip Hammond said on Friday at the start of a Beijing trip on which he hopes to seal a billion pounds ($1.34 billion) in deals.

Hammond's visit, the latest instalment in long-running economic talks between the two nations, it has taken on new importance for Britain as it looks to re-invent itself as a global trading nation after leaving the European Union in 2019.

Meeting Chinese Premier Li Keqiang in Beijing's Great Hall of the People, Hammond said there were many opportunities to build on their strong relationship.

"I was privileged earlier this year to represent the UK at the first Belt and Road forum and one of the things we will discuss tonight and tomorrow is the opportunity for closer collaboration in delivering the ambitions of the Belt and Road program," he said, without elaborating.

President Xi Jinping's Belt and Road initiative aims to recreate the old Silk Road with massive infrastructure projects to connect China to Europe and beyond.

Li told Hammond that people in China follow developments in Britain and Europe closely.

"We believe that no matter how the situation in Britain and in Europe may evolve, China will continue to hope that there will be steady and sound ground growth of Sino-British and Sino-Europe ties," Li said. China is one of the countries with which Britain hopes to sign a free trade pact once it leaves the EU. London and Beijing have been keen to show that Britain's withdrawal from the bloc will not affect ties.

The focus on a "Golden Era" of relations, trumpeted by both sides in 2015 when then-prime minister David Cameron hosted a state visit by Xi, has cooled under Cameron's successor Theresa May. In 2016, May caused a diplomatic spat by unexpectedly deciding to delay approval of a partly-Chinese funded nuclear power project. She later granted it, but not before drawing criticism from Beijing. Business Minister Greg Clarke will travel to Beijing too, along with a delegation including London Stock Exchange CEO Nikhil Rathi and representatives of major financial firms such as BlackRock, HSBC and Standard Chartered Bank.

Talks are expected to focus on a more integrated approach to financial services, new industrial partnerships and economic reform. Previous rounds of discussions have examined how to develop London as an offshore hub for trading China's currency and closer integration of the two countries' stock markets.

Clark will hold energy-specific talks focused on clean and renewable power generation.