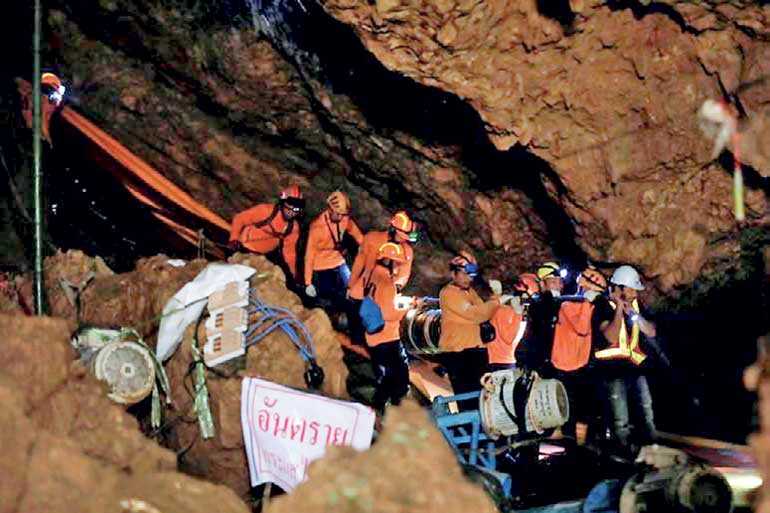 CHIANG RAI, Thailand (Reuters): The 12 boys and their soccer coach rescued from inside a flooded Thai cave lost an average of 2 kg (4 pounds) during their 17-day ordeal but were generally in good condition and showed no signs of stress, a senior health official said on Wednesday.

Thais reacted with relief, gratitude and exhilaration after the last group of the "Wild Boars" soccer team was rescued from the Tham Luang cave, near the border with Myanmar, on Tuesday night, ending an ordeal that gripped Thailand and the world.

They were taken by helicopter to a hospital about 70 km (45 miles) away to join their team mates in quarantine for the time being.

"From our assessment, they are in good condition and not stressed. The children were well taken care of in the cave. Most of the boys lost an average of 2 kg," Thongchai Lertwilairattanapong, an inspector for Thailand's health department, told reporters.

Parents of the first four boys freed on Sunday have been able to visit them but had to wear protective suits and stand 2 metres (7 feet) away as a precaution.

Thongchai said one from the last group rescued on Tuesday had a lung infection and they were all were given vaccinations for rabies and tetanus.

The group ventured into the vast cave complex in northern Thailand after soccer practice on June 23 and their rescue dominated front page headlines in Thailand.

"All Wild Boars Saved," read one headline.

"Hooyah! Mission accomplished," read another, echoing the rallying cry of the Thai navy SEALs involved in the rescue.

The hashtag #Hooyah was also hugely popular with Thai netizens wanting to show their support for the hundreds of rescuers, including divers from around the world, who helped to get the boys out.

Rescue mission chief Narongsak Osottanakorn thanked people in Thailand and from around the world soon after the final rescues were completed. A senior Australian police officer acknowledged the degree of international cooperation "in a very unfriendly environment".

"It is amazing what the human being can do. There are extraordinary people doing extraordinary things," Glenn McEwan, the Australian Federal Police's Asia manager, told reporters in Chiang Rai.

Audiences around the world cheered the team's successful rescue after the saga generated messages of help, prayers and – finally – expressions of relief.