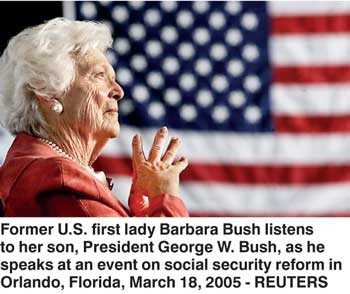 Reuters: Former U.S. first lady Barbara Bush, the only woman to see her husband and son both sworn in as president, died on Tuesday (17 April), the Bush family said. She was 92.

Bush was the wife of the 41st president, George H.W. Bush, and mother of the 43rd, George W. Bush. The Bush family had said in a statement on 15 April that she was in failing health and had decided not to seek further medical treatment, focusing instead on "comfort care."

According to some media reports, Bush had been battling chronic obstructive pulmonary disease and congestive heart problems in recent years. "Barbara Bush was a fabulous First Lady and a woman unlike any other who brought levity, love and literacy to millions," George W. Bush said in a statement. "To us, she was so much more. Mom kept us on our toes and kept us laughing until the end."

Dubbed "the Silver Fox" by her husband and children, Bush was known for her snow-white hair and for being fiercely protective of her family.

She was first lady when her husband was in the White House from 1989 to 1993. Her son, Republican George Walker Bush, triumphed in the disputed 2000 U.S. election, and was president from 2001 to 2009. The father-and-son presidents were sometimes referred to as "Bush 41" and "Bush 43."

The Bushes celebrated their 73rd wedding anniversary in January.