DHAKA (Reuters): Bangladesh's ruling party has rejected an opposition party's demand for a caretaker government it says is essential for a free and fair general election due to be held in December.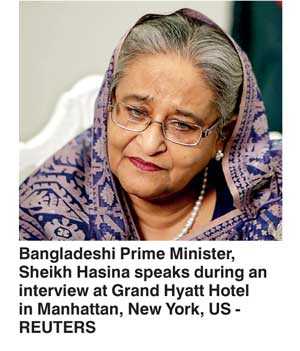 Although Prime Minister Sheikh Hasina's Awami League had agreed to unprecedented talks last week with the Bangladesh Nationalist Party (BNP) to discuss the arrangement, on Wednesday it declared the demand was unconstitutional.

"Our Prime Minister told them there is no provision in our Constitution to form such a caretaker government," said Obaidul Quader, her party's Secretary-General.

The BNP, which is in disarray after the jailing of its chief, former Prime Minister Khaleda Zia, on corruption charges, also pressed for a caretaker government at the last general election in 2014.

When that demand was not met, it boycotted the poll.

The party and its allies were still undecided whether to participate in the election, BNP Secretary General Mirza Fakhrul Islam Alamgir told Reuters.

Quader said the Awami League would ensure a level playing field by preventing Ministers from using government buildings or vehicles for the next three months.

Hasina and Khaleda, who between them have ruled Bangladesh for decades, are bitter rivals and the BNP says its leader has been jailed on trumped-up charges to keep her out of politics.