LONDON (Reuters): Prime Minister Theresa May's Conservative Party urged MPs to back the government's Brexit legislation at a vote in parliament later on Wednesday, warning opponents that trying to block the plan would bring chaos.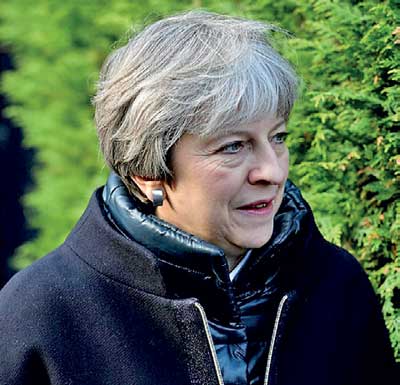 The European Union (Withdrawal) Bill is set to complete its first journey through parliament's lower house some time after 1900 GMT, a milestone on the long road towards cementing the legal foundations of Brexit.

The bill repeals the 1972 law which made Britain a member of the EU and transfers EU laws into British ones. It has become a focal point for the divisive debate about what type of EU divorce Britain should seek, severely testing May's ability to deliver on her exit strategy without a parliamentary majority.

Nevertheless, despite one embarrassing defeat, several government concessions and criticism from within her own party, May is expected to win a vote that will see the bill passed to parliament's largely pro-EU upper chamber for more scrutiny.

Speaking ahead of the vote, Conservative Party Chairman Brandon Lewis called on the opposition Labour Party, which has opposed May's strategy at almost every turn, to back the bill and show it is not trying to overturn the 2016 EU referendum.

"Labour say over and again that they support the referendum result, and can be trusted to act responsibly, but today that will be put to the test. They can either back this bill or vote for chaos," Lewis said.

Labour leader Jeremy Corbyn has said he will instruct his party to vote against the bill if concerns about democratic accountability, protection of workers, the environment and consumer rights are not addressed.

Even if Labour vote against, May should be able to win a vote thanks to an arrangement with a small, pro-Brexit Northern Irish Party. A number of Labour MPs could also defy Corbyn to help the bill through.

The upper house of parliament, the House of Lords, will take months to scrutinise the bill before it can become law. While many there are expected to try to soften the Brexit approach, the most likely area for changes to the bill involves rather technical, constitutional issues.

This month both pro- and anti-EU politicians have raised the question of whether to hold a second referendum to give voters the chance to approve whatever withdrawal treaty is agreed with Brussels before Britain leaves the bloc.

Leaders of EU institutions weighed into this debate by saying on Tuesday that Britons were still welcome to stay in the EU if they had a change of heart.

In response, May's spokesman repeated her determination to follow through on Brexit, even though she campaigned against it in 2016.
---
EU "still open" to Britain changing mind on Brexit
STRASBOURG (Reuters): The European Council President Donald Tusk, weighed in on new British debate on whether to hold a second referendum on Brexit by saying on Tuesday that Britons would be welcome to stay in the European Union.

Updating the European Parliament on the summit he chaired last month, at which EU leaders agreed to open talks with London on the post-Brexit future, the former Polish premier said:

"If the UK government sticks to its decision to leave, Brexit will become a reality, with all its negative consequences, in March next year, unless there is a change of heart among our British friends."

Referring to a comment about the reversibility of the 2016 referendum vote to leave by Britain's Brexit minister, Tusk then added: "Wasn't it David Davis himself who said 'If a democracy cannot change its mind, it ceases to be a democracy'?"

"We here on the continent haven't had a change of heart. Our hearts are still open to you."