TOKYO (Reuters): The Bank of Japan kept monetary policy steady on Wednesday and maintained its view the economy will continue to expand modestly, even as escalating global trade frictions threaten to chill growth.

The central bank's nine-member board also likely scrutinised bond market moves since its decision in July to allow yields to move more flexibly around its zero% target.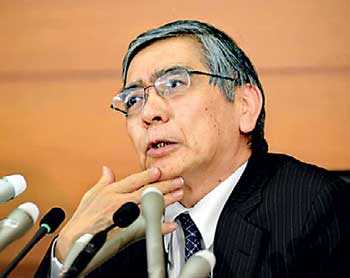 BOJ Governor Haruhiko Kuroda


Investors are focusing on post-meeting briefing for clues on the debate over market moves, as well as any warnings he may issue on the damage the intensifying trade war between the United States and China could inflict on Japan's export-reliant economy.

As widely expected, the BOJ maintained its short-term interest rate target at minus 0.1% and that for long-term rates around zero% by a 7-2 vote.

It also stuck to a pledge, put in place in July, to keep rates very low for an extended period as inflation remains far off its 2% goal.

"Japan's economy is expanding moderately," the BOJ said in a statement announcing the policy decision, adding that solid global demand was underpinning exports.

The meeting came ahead of a ruling party leadership race on Thursday, which Prime Minister Shinzo Abe looks set to win and put him on track to become Japan's longest-serving premier.

Abe said last week the BOJ's ultra-easy policy should not last forever, signalling his hope of laying the path toward an exit from a radical stimulus program.

Markets are focusing on how Kuroda could respond to Abe's remarks, as well as clues on whether the BOJ may act again to boost trading activity.