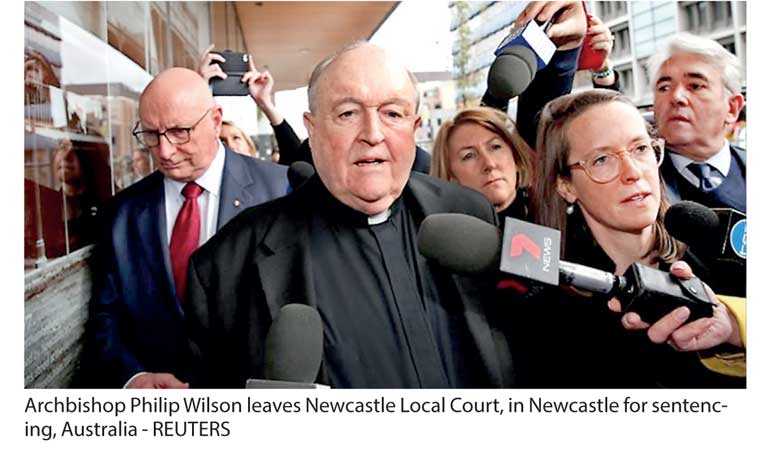 SYDNEY (Reuters): An Australian archbishop was sentenced to a year in detention on Tuesday for concealing child sexual abuse by a priest, but will remain on bail while his suitability for home detention is determined.

Philip Wilson, 67, the most senior Catholic cleric in the world convicted of concealing child sex abuse, was ordered to be assessed by prison authorities for home detention, instead of jail, and will face court again next month for a decision on where he will serve the sentence.

Wilson will be eligible for parole after six months, emailed court documents show.

The archbishop faced a maximum term of two years in jail and the Newcastle Herald newspaper reported he showed no emotion in court when the sentence was handed down at Newcastle Local Court, some 160 km (100 miles) north of Sydney.

Dressed in black and wearing a cleric's collar, Wilson made no remarks to journalists outside the court, television footage showed.

Wilson stood aside last month as the archbishop of Adelaide and is a former president of the Catholic Church's top body in Australia. The Catholic Archdiocese of Adelaide had no immediate comment.

The court was told in December that Wilson had early stage Alzheimer's disease, a Catholic Church spokesman said last month, a factor that may be taken in to account in determining where he serves the term.

In May, Wilson was convicted of covering up a serious indictable offence by another priest, James Fletcher, after being told about it in 1976 when he was an assistant parish priest in the state of New South Wales.

Lawyers for Wilson, who maintained his innocence throughout the legal process, had argued that he did not know that Fletcher had abused a boy. Fletcher was found guilty in 2004 of nine counts of child sexual abuse and died in jail in 2006 following a stroke.

Originally from the rural Hunter Valley in New South Wales where he served as a young priest, Wilson stepped down as archbishop of Adelaide and was replaced by a Vatican-appointed administrator.

Last year, Australia completed a five-year government-appointed inquiry into child sex abuse in churches and other institutions, amid allegations worldwide that churches had protected paedophile priests by moving them from parish to parish.

The inquiry heard that seven percent of Catholic priests working in Australia between 1950 and 2010 had been accused of child sex crimes and that nearly 1,100 people had filed child sexual assault claims against the Anglican Church over 35 years.