Reuters: Australia said on Sunday it is stopping 'undesirables' such as terrorists, paedophiles, organised criminals and drug smugglers from boarding flights to the country, defending its hardline immigration policy that has drawn criticism from rights groups.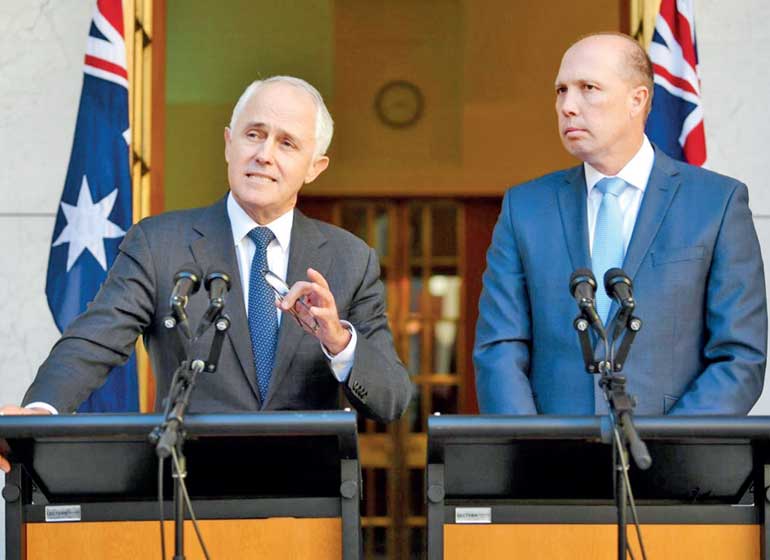 Australia's Prime Minister Malcolm Turnbull speaks as Immigration Minister Peter Dutton listens on during a media conference at Parliament House in Canberra, Australia, 18 April – AAP via REUTERS/Files
Immigration Minister Peter Dutton said that Australian Border Force Airline Liaison Officers were operating in major transit airports to push those threats "beyond our borders".

Where other countries "allow people to arrive and then assess the threat then", the "Australian model" was to bar those considered a threat.

"(Liaison officers) try to identify the threats – particularly given that we've got foreign fighters coming back through Southeast Asia and all over – the idea is to stop them getting on planes," the minister told the Nine Network.

According to media, immigration officials prevented 1,043 passengers from boarding flights to Australia since 2013.

Australia has seen the rise of nationalist, anti-immigration politics with far-right wing parties such as One Nation garnering strong public support, while the popularity of the ruling centre-right government has been languishing.

Under its policy on asylum seekers arriving by boat, Australia turns back unauthorised vessels at sea to their port of origin when it can and sends those it cannot to controversial camps in the South Pacific for long-term detention.

Earlier this year, the government announced it would raise the bar for handing out citizenships by lengthening the waiting period, adding a new "Australian values" test and raising the standard for English language as part of a shakeup of its immigration program.