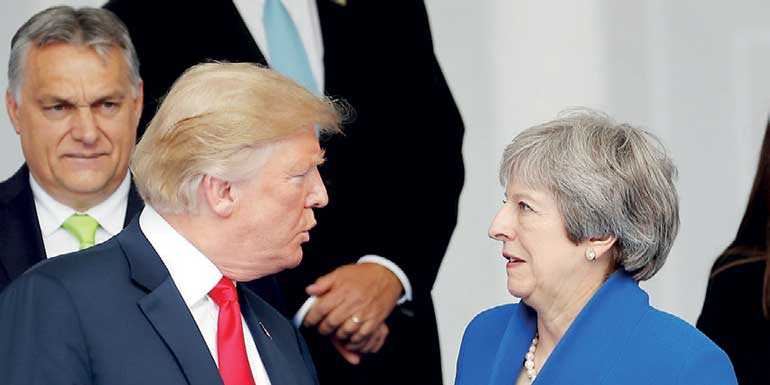 U.S. President Donald Trump and Britain's Prime Minister Theresa May talk as NATO leaders pose for a family photo at the start of the NATO summit in Brussels, Belgium July 11, 2018. REUTERS
BRUSSELS (Reuters): U.S. President Donald Trump accused Germany of being a "captive" of Russia on Wednesday as Western leaders gathered in Brussels for a NATO summit where Trump wants Europeans to pay more for their own defence.

In a startling public outburst against one of Europe's main military powers, Trump told NATO Secretary-General Jens Stoltenberg that Germany was wrong to support a new $11-billion Baltic Sea pipeline to import Russian gas while being slow to meet targets for NATO spending to protect against Russia.

"We're supposed to be guarding against Russia and Germany goes out and pays billions and billions of dollars a year to Russia," Trump said in the presence of reporters at a pre-summit meeting at the residence of the U.S. ambassador to Belgium.

Trump, who later arrived at NATO's new billion-dollar headquarters in his presidential limousine, appeared to substantially overstate German reliance on Russian energy and to imply the German government was funding the pipeline, which Berlin says is a commercial venture.

With tensions in the Western alliance running high over Trump's trade tariffs on European steel and his demands for more contributions to ease the burden on U.S. taxpayers, the latest remarks fuelled concerns among allies over the U.S. role in keeping the peace that has reigned since World War Two.

After the two-day summit in Brussels, Trump will meet Russian President Vladimir Putin in Helsinki on Monday.

Merkel later responded to Trump's remarks, saying Germany, one of the biggest troop contributors to NATO missions, was free of Russian control since the fall of the Berlin Wall.

She recalled her own youth in Soviet-dominated East Germany and said she was "very happy that today we are united in freedom, the Federal Republic of Germany. Because of that we can say that we can make our independent policies and make independent decisions."

NATO's Stoltenberg later told reporters that Trump had used "very direct language" but that all NATO allies were agreed that the cost of defence spending must be spread around and that last year had seen the biggest increase in a generation.