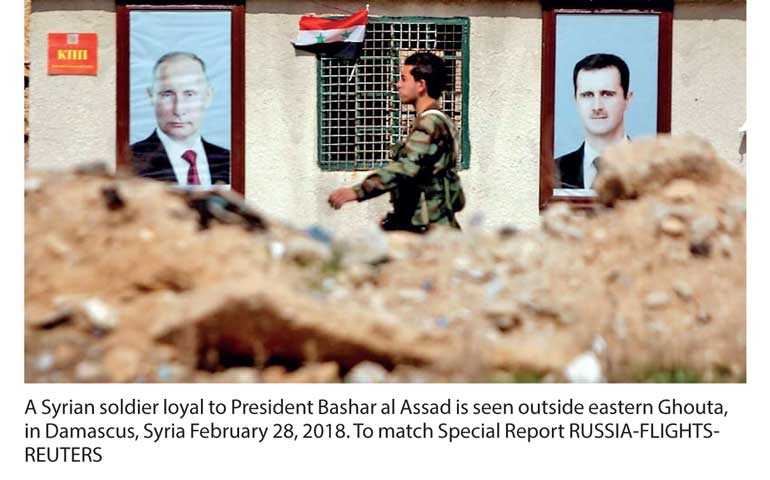 Beirut/Amman (Reuters): The Syrian government stepped up its efforts on Thursday to retake the opposition's last besieged enclaves, as rebels prepared to withdraw from one and a newspaper reported an ultimatum against another.

President Bashar al-Assad scored a major victory this month by retaking eastern Ghouta, the biggest rebel stronghold near Damascus, putting his forces in by far their strongest position since the early months of the seven-year-old civil war.

The United States, Britain and France launched a volley of air strikes on Saturday against three Syrian targets in retaliation for a suspected chemical weapons strike during the Ghouta assault.

But the limited Western intervention, far from any contested battlefront, has shown no sign of having any impact on the ground, where Assad's forces have pressed on with his offensive.

The last rebels withdrew from eastern Ghouta hours after the Western bombing. Since then, the government has focused on regaining four less populous encircled enclaves.

Their capture would leave the opposition holding only its two main strongholds, located in the northwest and southwest along Syria's international borders.

Diplomacy this week has focussed on the accusations of poison gas use in Douma, the last town to hold out against the government advance in eastern Ghouta.

Western countries say scores of people were gassed to death in the April 7 chemical attack. Syria and its ally Russia deny it. Now that the rebels have surrendered, the area is under government control, and a team of international inspectors has so far been unable to reach it.

The inspectors have delayed their visit to Douma after their security team were shot at during a reconnaissance trip on Tuesday, the Organization for the Prohibition of Chemical Weapons said.

The Western countries say Moscow and Damascus are preventing the inspectors from reaching the site and may be destroying evidence. Russia and Assad's government deny this.

Meanwhile, the Western intervention has had no measurable impact on the wider war, with rebels continuing to surrender under deals that allow them to withdraw to the opposition pocket in the northwest in return for abandoning territory.