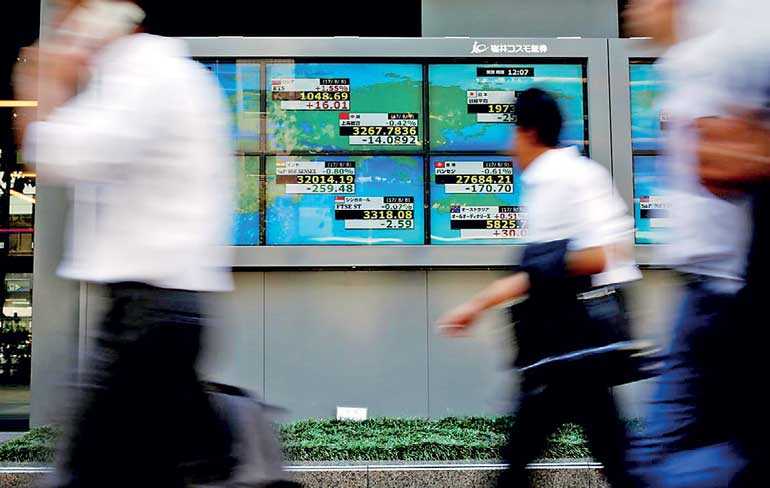 FILE PHOTO: People walk past an electronic board showing Japan's Nikkei average outside a brokerage at a business district in Tokyo, Japan - REUTERS
TOKYO (Reuters): Asian stocks rose across the board and long-term US Treasury yields hovered near four-month highs on Wednesday with investors looking past the latest escalation in the US-China trade feud, seen by some market participants as less severe than expected.

MSCI's broadest index of Asia-Pacific shares outside Japan rose 0.7%.

Hong Kong's Hang Seng was up 1.1% and the Shanghai Composite Index rose 1% following a surge of 1.8% the previous day.

Australian stocks added 0.45%, South Korea's KOSPI dipped 0.2% and Japan's Nikkei rose 1.5%.

Wall Street shares posted a broad-based rally on Tuesday amid emerging views that the US-China trade dispute's impact on world growth might not be as severe as previously feared.

"The broader equity markets are able to regroup now that the latest phase of the US-China trade war is over," said Masahiro Ichikawa, senior strategist at Sumitomo Mitsui Asset Management in Tokyo.

"There was relief as the United States set the initial tariffs at 10%, rather than the expected 25%, seen by some as a gesture that it was buying time for further negotiations."

The Trump administration said on Monday, it will begin to levy new tariffs of 10% on $200 billion of Chinese products on Sept. 24, with the tariffs to go up to 25% by the end of 2018.

China hit back, saying it will levy tariffs on about $60 billion worth of US goods, as previously planned, but cut the tariff rates.

While global market reaction to the latest phase of the trade dispute has been relatively limited, the US-China row was expected to heat up – a major worry for investors.

US Treasury Secretary Steven Mnuchin last week invited top Chinese officials to a new round of talks, but speculation has risen that Beijing would decline to attend in the fallout of Washington's latest trade salvo.

Long-term US yields at 4-month highs

Safe-haven US Treasuries were sold and their yields rose on the back of improved investor risk appetite.

The benchmark 10-year Treasury yield stood at 3.049% after touching 3.059% overnight, its highest since May 23.

The rise in yields propped up the dollar in turn. The greenback climbed to a two-month high of 112.395 yen overnight and last traded at 112.300.

The yen showed little reaction to the Bank of Japan's well-anticipated decision on Wednesday to keep monetary policy steady.

China's yuan was little changed at 6.8601 per dollar in onshore trade after edging up 0.1% on Tuesday.

The Australian dollar, seen as a gauge of risk sentiment, brushed a two-week peak of $0.7235 after advancing nearly 0.6% on Tuesday.

The euro slipped 0.05% to $1.1663. The pound shook off modest overnight losses and rose to $1.3175, its highest since July 26.