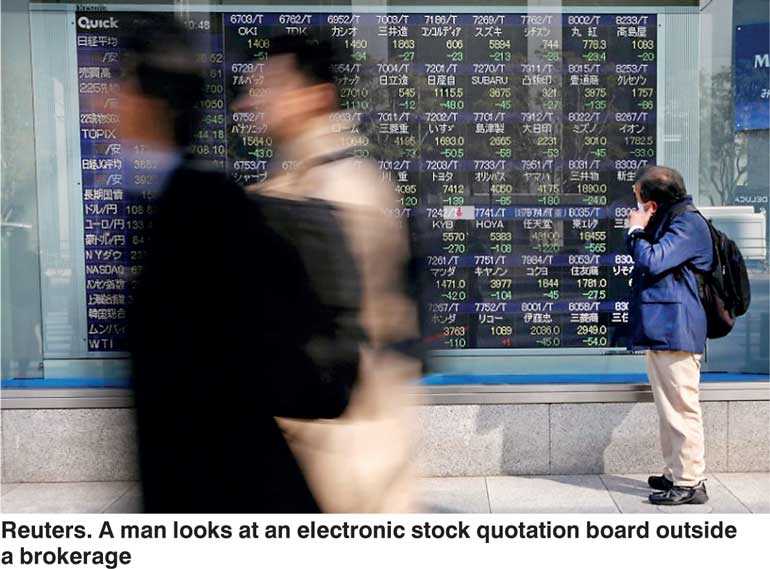 TOKYO (Reuters): Asian shares fell on Monday on escalating trade tensions between the United States and major economies while oil prices gave up some of their hefty gains made after major oil producers agreed to a modest increase in production.

S&P500 mini futures eased as much as 0.6% in early trade while MSCI's broadest index of Asia-Pacific shares outside Japan fell 0.25%. Japan's Nikkei lost 0.4%.

The falls were triggered by a report from the Wall Street Journal that US President Donald Trump plans to bar many Chinese companies from investing in US technology firms and block additional technology exports to China.

"Until last week, there was vague optimism that we can muddle through this. But now it looks like, unless the US lays down its arms, things will be getting more chaotic," said Hirokazu Kabeya, chief global strategist at Daiwa Securities.

As the threat of a full-blown trade war has become all the more real, MSCI's gauge of stocks across the globe has fallen in five of the last six weeks, including last week, when it declined one% - its biggest weekly drop in three months.

Chinese shares were among the biggest losers, tumbling 3.7% last week, as Trump put the heat on Beijing, threatening to hit $200 billion of Chinese imports with 10% tariffs.

Policy makers in China moved fast to temper any potential economic drag from the trade dispute with the United States, with China's central bank on Sunday saying it would cut the amount of cash that some banks must hold as reserves by 50 basis points (bps).

The reduction in reserves, the third by the central bank this year, had been widely anticipated by investors and is aimed to accelerate the pace of debt-for-equity swaps and spur lending to smaller firms.

Following the move, the CSI300 Index of mainland Chinese shares rose 0.1% in early trade.

On the other hand, the index of global auto manufacturers, which shed 4.7% last week, remained soft.

Trump threatened to impose a 20% tariff on Friday on all imports of EU-assembled cars, a month after his administration launched an investigation into whether auto imports posed a national security threat.

A senior European Commission official said on Saturday that the European Union will respond to any US move to raise tariffs on cars made in the bloc.

Investors and traders are worried that threats of higher US tariffs and retaliatory measures by others could derail a rare period of synchronised global growth.

Oil prices were supported after OPEC and non-OPEC producers agreed on a modest increase in production from next month, without announcing a clear target for the output increase, leaving traders guessing how much more will actually be pumped.

OPEC and non-OPEC said in their statement that they would raise supply by returning to 100% compliance with previously agreed output cuts, after months of underproduction.

"In reality, there aren't many countries that can raise outputs, with only Saudi Arabia having the capacity to flexibly increase the output. But if Saudis alone increase outputs sharply, they could face backlash from some other countries," said Tatsufumi Okoshi, senior commodity economist at Nomura Securities.

"So markets seem to be sceptical how much Saudi can increase. We could see some profit-taking after last week's gains but the market will be supported. The next focus will be on the size of output increase by Saudis in July," he added.

US crude futures traded at $68.36 per barrel, down 0.3% for the day after Friday's 4.6% rally.

International benchmark Brent fell 2.0%, however, to $74.08 per barrel, giving up more than a half of their gains made on Friday.

In the currency market, the euro held firm at $1.1656, bouncing back after hitting an 11-month low of $1.1508 on Thursday.

The euro climbed on Friday as traders were encouraged by improved regional economic growth data and new assurances by Italian politicians that their nation would not leave the single currency.

Business activity in Germany and France, the euro zone's top two economies, picked up in June despite trade tensions between Europe and the United States, IHS Markit data showed.

The dollar fell 0.4% to 109.50 yen, hitting its lowest levels in two weeks as the yen firmed on concerns about global trade frictions.

The Turkish lira gained by up to 1.6% on expectations of a stable government after Tayyip Erdogan and his ruling AK Party claimed victory in Turkey's presidential and parliamentary polls on Sunday.

But his victory kept alive worries about inflation and the central bank's independence given Erdogan's recent comments suggesting he wants to take greater control of monetary policy.

The lira last traded at 4.6500 to the dollar, up 0.5% from 4.6625 at the end of last week, but off the day's high hit earlier of 4.5870.

Bitcoin steadied after hitting seven-month lows during the weekend as the security of cryptocurrency exchange operators came under more scrutiny.

The digital money fell to as low as $5,780 and last stood at $6,155.