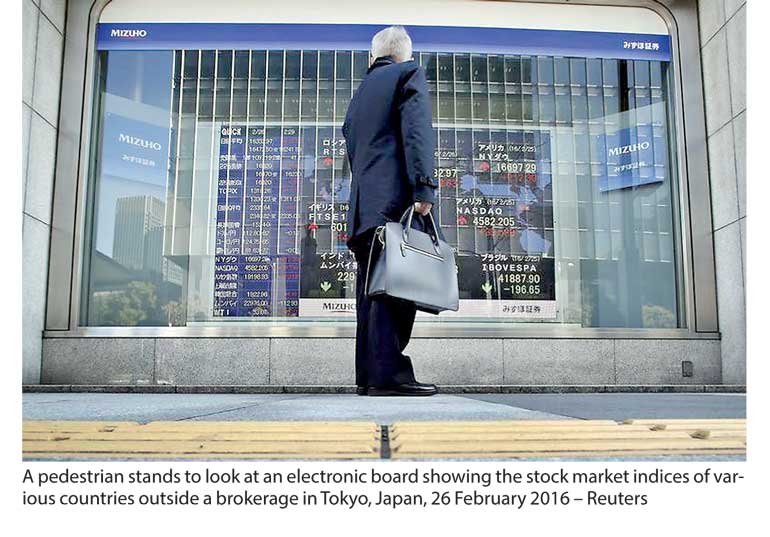 Tokyo (Reuters): Asian shares bounced back on Thursday after U.S. President Donald Trump and congressional leaders unexpectedly agreed to raise the government debt limit until December, eliminating the near-term risk of a government shutdown.

The euro maintained this week's slim gains ahead of the European Central Bank's policy meeting later in the day while oil prices were supported as U.S. Gulf Coast refineries restart in the wake of Hurricane Harvey.

European shares are expected to rise, with spread-betters quoting a higher opening of 0.4% in Germany's DAX and 0.3% in France's CAC.

MSCI's broadest index of Asia-Pacific shares outside Japan gained 0.3% while Japan's Nikkei rose 0.2%.

South Korea's KOSPI, which has been burdened by tensions over North Korea, jumped 1.2%, on course to mark its biggest gain in four months.

In New York on Wednesday the S&P 500 rose 7.69 points, or 0.31%, led by gains in the energy sector on the back of a rise in oil prices.

Trump forged a surprising deal with Democrats in Congress to raise the U.S. debt limit and provide government funding until Dec. 15, embracing his political adversaries and blindsiding fellow Republicans in a rare bipartisan accord.

"The deadline on the debt ceiling has been extended just by three months so it will come back to haunt markets again later this year. Still, markets liked it as we don't have to worry about it for now," said Masahiro Ichikawa, senior strategist at Sumitomo Mitsui Asset Management.

The news also helped to lift yields on U.S. Treasuries, with the 10-year yield rising back to 2.101 percent from its 10-month low of 2.054 percent touched earlier on Wednesday.

The U.S. economic data was fairly upbeat, with a gauge of services sector activity by the Institute for Supply Management accelerating in August.

Still, geopolitical tensions over North Korea's nuclear and missile programme continued to cast a shadow, particularly in Japan and South Korea. The rally in shares lacked momentum because Trump's deal raises the debt ceiling for only three months.

"It would have been better if they had extended the debt limit for a much longer period. While there's no immediate risk of government shutdown or debt default, it's hard to say the fog has cleared," said Nobuhiko Kuramochi, chief strategist at Mizuho Securities.

The Fed's long-term policy outlook also appears uncertain.

Federal Reserve Vice Chair Stanley Fischer said on Wednesday he would step down from his position in mid-October, while sources said Trump has soured on nominating his top economic adviser Gary Cohn to lead the U.S. central bank.

The recovery in risk appetite helped the dollar bounce back to 109.03 yen from Wednesday's low of 108.45 yen.

The main focus of the day is the euro, which stood almost flat at $1.1925 ahead of the ECB's policy meeting, maintaining its uptrend since the start of this year.

ECB President Mario Draghi is expected to lay the groundwork to wind back its asset purchase programme, though few investors expect to see a clear framework just yet.

Some participants are worried that Draghi may warn against the strength of the euro which has risen 13% so far this year, the strongest performance among major currencies.

The Canadian dollar held firm following 1.2% gains on Wednesday after the Bank of Canada unexpectedly raised interest rates.

The Canadian dollar traded at C$1.2230 to the dollar, off Wednesday's high of C$1.2140 per U.S. dollar, which was its highest since June 2015.

Oil prices maintained much of this week's strong gains as the reopening of U.S. Gulf Coast refineries improved the outlook after sharp falls caused by Hurricane Harvey.

U.S. crude futures were at $49.07 per barrel, down 0.2% from late U.S. levels after having gained 3.0 percent in the previous three sessions.

Brent traded at $54.11 a barrel, down 0.2% but still not far from its 3-1/2-month high of $54.31 touched on Wednesday.

Traders are now shifting their focus to Hurricane Irma, ranked as one of the five most powerful Atlantic hurricanes in the last 80 years, which was passing over the northernmost Virgin Islands on Wednesday afternoon and expected to reach Florida at the weekend.