Mainland Chinese shares hit 3-month low in volatile trade
Dollar on defensive after Fed minutes
Sterling eyes May's visit to Brussels
European shares seen flat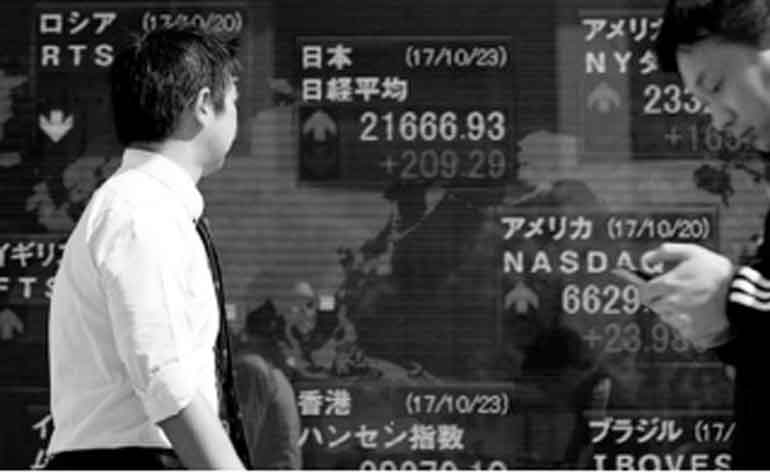 TOKYO (Reuters) - Asian shares hovered below their 10-year peak on Friday while mainland Chinese shares dropped to three-month lows after big falls the previous day on concerns about fresh government steps to curb financial risks and rise in Chinese bond yields.

European stocks are expected to be little changed after the Thanksgiving holiday in the United States on Thursday, with spread-betters looking to a flat opening in major European stock indexes, including Britain's FTSE, France's CAC and Germany's DAX.

MSCI's broadest index of Asia-Pacific shares outside Japan was up 0.2%, as Hong Kong shares bucked the softness in the mainland shares to gain 0.6%.

The MSCI index hovered still just 0.3% below its 10-year peak hit earlier this week and is on course to post a weekly gain of 1.4%.

Japan's Nikkei ended up 0.1% after a market holiday on Thursday while U.S. stock futures were little changed after shortened trading on Thursday.

"Many markets have been hitting new highs so there should be some profit-taking and I wouldn't worry too much. Still, in the very near term, we could be in a phase where patience is needed," said Hirokazu Kabeya, chief global strategist at Daiwa Securities.

Although solid global economic growth and strong corporate earnings have underpinned shares in Asia and many other parts of the world, a tumble in mainland Chinese shares caught some investors' attention. The CSI300 index fell as much as 0.9% to a three-month low in choppy trade after a 3.0% fall - its biggest in almost a year-and-a-half - on Thursday, as a sell-off in domestic bonds that has been underway since last month gnawed away at investor sentiment.

In late trade, the index was almost flat.

Investors were also reacting to new policies aimed at curbing micro-lending and tightening regulation of asset management businesses.The start-up board Chinext Index hit its lowest level since mid-August and last stood down 0.3%, ahead of potential swell in selling of small shares in the next couple of months from institutional investors after their IPO (Initial Public Offering) lock-up period ends.

"The market is hit by concerns on the demand-supply balance. But there aren't any major worries in terms of fundamentals," said Naoki Tashiro, president of TS China Research. Earlier this month Chinese stocks had risen almost 15% from their lows hit in May, and analysts said some investors were selling to lock in profits.

"We have seen a bull run in blue-chips this year. But no matter how good a company is, its price cannot go up forever," said Wu Kan, head of equity trading at Shanshan Finance.

In the currency market, the U.S. dollar remained under pressure after the minutes from the U.S. Federal Reserve's latest policy meeting highlighted concern among some of the board members over persistently low inflation.

"The Fed funds futures market has rolled back expectations on future rate hikes a bit after the minutes. One key focus going forward would be Powell's hearing in the Senate on Tuesday," said Masahiro Ichikawa, senior strategist at Sumitomo Mitsui Asset Management. The euro traded at $1.1846, near its one-month high of $1.1862 set on Nov. 15 and on track to mark its third consecutive week of gains despite failure of coalition talks in Germany earlier this week.

The leader of country's Social Democrats is coming under growing pressure to drop his opposition to a new "grand coalition" with Chancellor Angela Merkel's conservatives, with senior politicians arguing the party had a duty to promote stability.

The dollar fell to a two-month low of 111.07 yen on Thursday and last traded at 111.52 yen.

A weaker dollar saw the British pound staying near a six-week high against the dollar ahead of British Prime Minister Theresa May's visit to Brussels later in the day for talk on Brexit.

The pound last traded at $1.3295, a tad below Thursday's six-week high of $1.3337. U.S. crude futures hit a two-year high on the shutdown of Keystone pipeline, a major crude pipeline from Canada to the United States. U.S. West Texas Intermediate (WTI) crude futures were at $58.42 a barrel at 0645 GMT, up 35 cents, or 0.6% from their last settlement. They reached a high of $58.58 a barrel early on Friday, the highest level since July 1, 2015.

International benchmark Brent futures held firm at $63.41, down 0.2% on the day.

In a sign of a tightening market, both crude benchmarks are in backwardation, where spot prices are higher than those for future delivery, which makes it unattractive for traders to store oil for later sale.