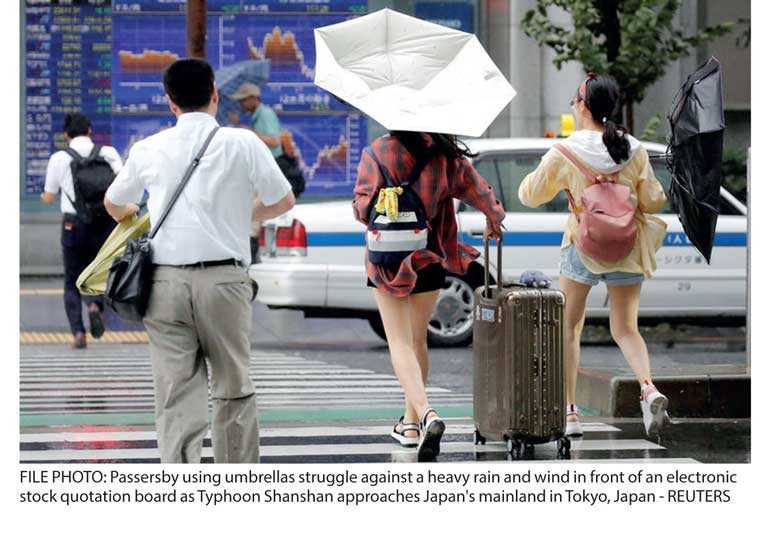 SYDNEY (Reuters): Asian shares advanced on Tuesday and the US dollar hovered near its lowest in a month, with risk appetite sharpened by the United States and Mexico reaching a deal to overhaul the North American Free Trade Agreement.

Investors expect Canada would also agree to new terms to preserve a three-nation pact, ultimately dispelling the economic uncertainty prompted by US President Donald Trump's repeated threats to ditch the 1994 NAFTA accord.

The improved trade outlook was also boosted by news that Washington was pressing the European Union to accelerate tariff talks.

Spreadbetters pointed to a firm start for Europe, with FTSE futures 0.6% higher and the CAC and DAX indexes slightly firmer.

MSCI's broadest index of Asia-Pacific shares outside Japan climbed 0.4% for a second straight day of gains. Australian shares added 0.7% while Japan's Nikkei pared early gains to end 0.1% higher.

Chinese shares were in the red. Shanghai's SSE Composite was off 0.2% and the blue-chip index down 0.3% as the Sino-US trade dispute wears on.

The United States and China held two days of talks last week without a major breakthrough as their trade war escalated with the activation of another round of duelling tariffs on $16 billion of each country's goods.

Worryingly, consultancy KPMG has predicted a recession for the global economy were there to be an all-out tariff war.

"Globally, the effects of a substantial number of other countries introducing protectionist measures such as a 15% tariff on imports would be very significant," KPMG Australia Chief Economist Brendan Rynne said in a note on Tuesday.

"The world economy would contract by more than 3%."

Disputes between the United States and its trading partners have been a drag on investor sentiment for much of the year despite solid economic fundamentals and two robust quarters of corporate earnings.

Some analysts were cautious about Tuesday's rally.

"News of the US-Mexico trade deal has fuelled risk appetite," ANZ analysts said in a client note. "It is hard to extrapolate much out of it, as the United States continues to treat each country and deal on its own merit. We remain wary of the current rally in risk appetite, and see it as short-lived."

Investors will keep a close eye on US economic data with consumer confidence figures due later in the day and the latest estimate for second-quarter gross domestic product expected on Wednesday.

The dollar index paused near one-month lows against major currencies to stand at 94.83.

Against the yen, the greenback held at 111.24.

The euro was near a one-month top at $1.1677.

The Australian dollar, which is often used as a liquid hedge for global growth, was a tad lower at $0.7331 but well above a 1-1/2 year trough of $0.7203 touched earlier this month.

Gold was subdued with spot prices off a touch at 1,210.44 an ounce.
Oil markets dip amid mixed price signals
SINGAPORE (Reuters): Oil prices dipped on Tuesday, weighed down by gradually rising output from producer club OPEC but supported by supply risks from places such as Venezuela, Africa and Iran.

International Brent crude oil futures were at $76.14 per barrel at 0625 GMT, down 7 cents from their last close.

US West Texas Intermediate (WTI) crude futures were down 11 cents at $68.76 per barrel.

Traders said markets were range-bound, hemmed in by conflicting price signals.

The monitoring committee of the Organization of the Petroleum Exporting Countries (OPEC) found that oil producers participating in a supply-reduction agreement, which includes non-OPEC member Russia, cut output in July by 9% more than called for.

The findings for last month compare with a compliance level of 120% for June and 147% for May, meaning participants have been steadily increasing production.

OPEC and its allies agreed in late 2016 to cut output from 2017 by around 1.8 million barrels per day (bpd) versus October 2016 levels.