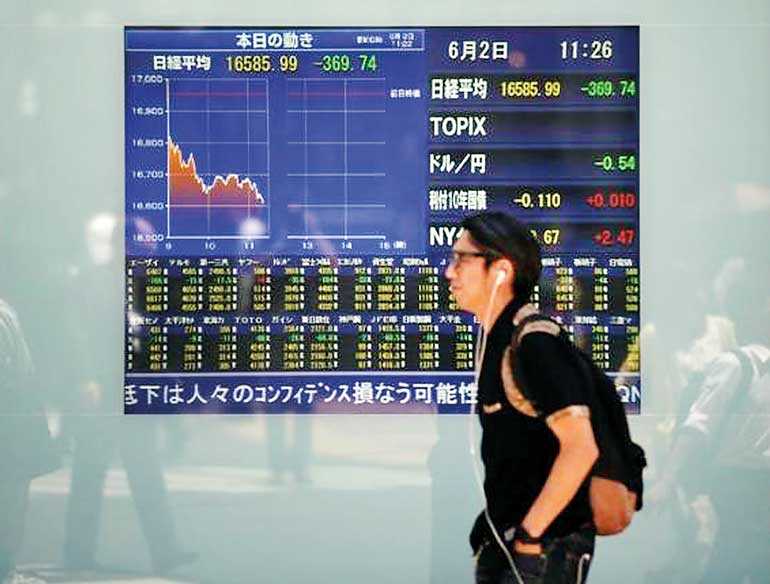 A man walks in front of a screen showing today's movements of Nikkei share average outside a brokerage in Tokyo, Japan, 2 June 2016 – Reuters
TOKYO (Reuters): Asian stocks slipped to 14-month lows on Wednesday with investor confidence chilled by the latest round of verbal threats in an intensifying US-China trade conflict.

Spreadbetters expected European stocks to open flat to higher in light of Wall Street gains, with Britain's FTSE starting little changed, Germany's DAX gaining 0.15% and France's CAC adding 0.25%.

MSCI's broadest index of Asia-Pacific shares outside Japan lost 0.3%, plumbing its lowest levels since July 2017.

Hong Kong's Hang Seng fell 0.4% and the Shanghai Composite Index dropped 0.3%.

Tokyo's Nikkei declined 0.4% and Australian stocks gave up 0.1%, while South Korea's KOSPI shed 0.3%.

The mood was dimmed by the verbal sparring between Washington and Beijing as the months-long escalation in trade tensions between the world's two biggest economies took its toll on riskier assets.

China told the World Trade Organization (WTO) on Tuesday it wanted to impose $7 billion a year in sanctions on the United States in retaliation for Washington's non-compliance with a ruling in a dispute over US dumping duties.

Separately, US President Donald Trump told reporters on Tuesday that the United States was taking a tough stance with China.

Asian equities and the broader emerging markets have faced persistent selling pressure over recent months in the wake of the trade tensions and concerns about the crises in Turkey and Argentina. MSCI's index of emerging market shares has fallen to its lowest level since May 2017.

Still, other markets have shown resilience. Wall Street gained on Tuesday as Apple led a jump in technology shares and a gain of more than 2% in oil prices drove up energy stocks.

"In thinking of the prospects of the trade war, it is important to distinguish the journey from the destination. The journey will remain very noisy and unsettling. But I suspect the destination will be less so," Mohamed A. El-Erian, Chief Economic Advisor at Allianz SE, told the Reuters Global Markets Forum on Wednesday.

El-Erian expects the United States to eventually secure trade concessions. He sees a 60% probability of "slightly fairer but and still free trade," a 25% possibility of a global trade war and 15% likelihood of a "Reagan Moment" that significantly improves the landscape for international trade."

In currencies, the dollar index against a basket of six major currencies was 0.1% lower at 95.174, handing back the previous day's modest gains.

The greenback, which had gained earlier on safe-haven demand, eased after Canada signalled it was ready to make a concession to the United States to resolve their talks over reworking the North American Free Trade Agreement (NAFTA).

The euro dipped 0.15% to $1.1587.

The Australian dollar was down 0.25% at $0.7102 after hitting $0.7085 on Tuesday, its lowest since February 2016, on concerns that any damage to the Chinese economy from a trade war could hurt Australia's exporters.

The pound eased 0.2% to $1.3007, pulling back from a one-month peak of $1.3087 scaled on Monday as hopes over a Brexit trade deal with the European Union subsided.

The trade woes pulled China's yuan down for the fourth day in onshore trade, with the currency brushing a 2-1/2-week low of 6.88 per dollar.

MSCI's emerging markets currency index retreated to its lowest since May 2017 on Tuesday, although some observers expect the downturn in these currencies to eventually slow.

"While the markets are yet to give a positive assessment of Argentina's fiscal and monetary policy efforts, the country is headed in the right direction. And Turkey has hinted toward hiking interest rates," said Soichiro Monji, senior economist at Daiwa SB Investments in Tokyo.

"These are positive developments for the Argentine peso and the Turkish lira, which have led the recent decline in emerging market currencies."

While still shaky, both the peso and the lira have pulled back from record lows plumbed over the past month.

Crude oil stretched its gains from the previous day, when the market rallied as US sanctions squeezed Iranian crude exports and after US crude oil production in 2019 was forecast to rise more slowly than previously expected.

Brent crude futures were 0.35% higher at $79.33 per barrel after surging more than 2% on Tuesday. US crude added 0.9% to $69.87 per barrel.