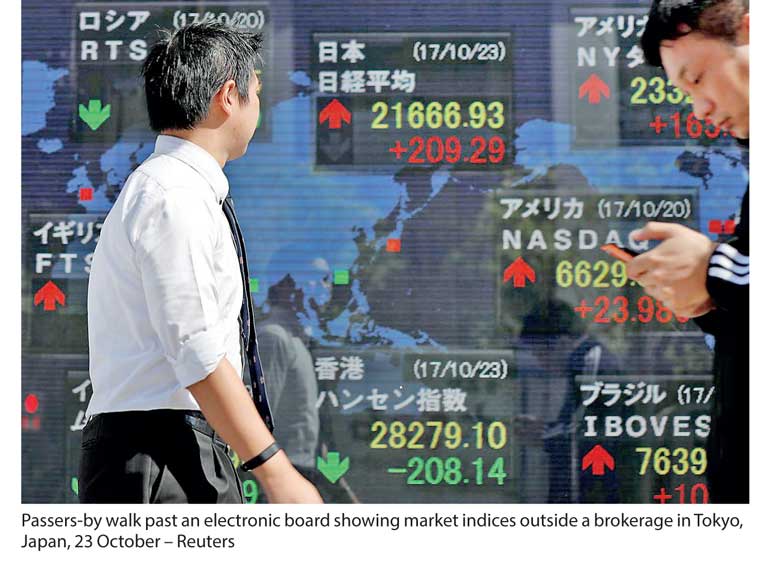 Tokyo (Reuters): Asian shares stepped back in cautious trade on Monday as investors look to see whether U.S. Republicans can hammer out a tax reform deal quickly, while the British pound fell on growing doubts over Prime Minister Theresa May's leadership.

European shares are expected to be largely unchanged. Spread betters expect France's CAC and Germany's DAX to open almost flat, while Britain's FTSE is seen rising 0.3% from Friday's six-week low.

Tokyo's benchmark Nikkei dropped 0.9%, bringing down MSCI's Asia-Pacific Index 0.5%. Excluding Japan, shares in the region were down just 0.1%, with mainland Chinese shares .CSI rising as much as 0.6% to two-year highs.

The S&P 500 index had ended its eight-week winning streak By Friday's Wall Street close as investors took their profits after U.S. Senate Republicans had unveiled a new tax plan that differed from the House of Representatives' version.

There are few signs of a compromise yet, with the head of the House of Representatives' tax-writing committee opposing a proposal from Senate Republicans that would hike taxes for some middle class Americans.

"All eyes are on what the Senate and the House of Representatives will do on their tax bills," said Nobuhiko Kuramochi, chief strategist at Mizuho Securities. "That there is debate is not surprising at all. Still, it is an uphill moment for markets," he said.

In the currency market, the dollar was also shackled by the uncertainty over the fate of the tax cut plans.

The euro traded at $1.1647, down slightly after showing its first weekly gain in four weeks last week.

The dollar fetched 113.42 yen, more than a full yen below its near seven-month high of 114.735 yen touched a week ago. The British pound came under renewed pressure, slipping 0.5% to $1.3120 after the Times newspaper reported on Sunday that 40 Conservative lawmakers had agreed to sign a letter of no confidence in May. Most emerging market currencies were stable though the South African rand was the exception, falling to one-year low of 14.44 per dollar on fears its credit rating would be downgraded.

Elsewhere, bitcoin fell to as low as $5,555 on Sunday, logging a weekly fall of 22%, its biggest since early July as some traders dumped it for a clone called Bitcoin Cash.

The digital currency bounced back 6 percent on Monday to trade at $6,255, still down more than 21% from its record high of $7,888 touched on Wednesday.

Oil prices held firm, propped up by concerns about the political instability in Saudi Arabia.

The news of a pipeline explosion in Bahrain, which Bahraini authorities said was caused by "terrorist" sabotage, are fanning worries about mounting tensions between Saudi Arabia and its Sunni allies and Shiite Iran.

Brent futures traded at $63.50 per barrel, flat on the day and not far from their two-year peak of $64.65 set last week. U.S. crude futures were also flat at $56.75.

Traders were also keeping a wary eye on Venezuela, as the cash-strapped OPEC nation will hold a keenly-awaited meeting with investors to discuss renegotiating $60 billion in foreign debt on Monday.

Venezuelan President Nicolas Maduro said on Sunday the country would never default on its debt and its bonds had rallied on Friday on optimism ahead of the meeting.

"Fundamentally there still remains risk of default and if it runs out of money, its oil operations will be halted. If that happens, there could be an impact on oil prices, given its sizeable oil output," said Tatsufumi Okoshi, senior commodity economist at Nomura Securities.