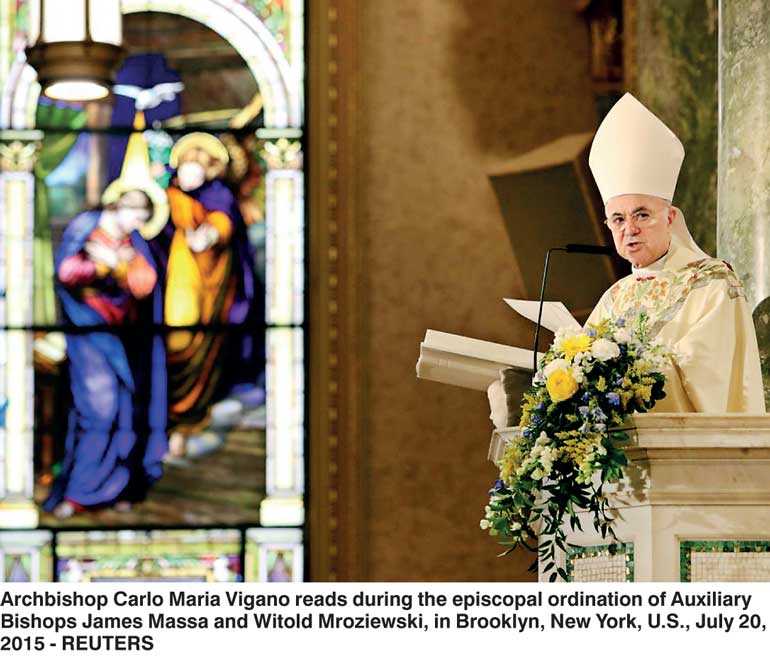 VATICAN CITY (Reuters): The archbishop who sparked a crisis in the Catholic Church by calling on Pope Francis to resign has denied he was motivated by personal vendetta and said he sought to show that corruption had reached the top levels of the Church hierarchy.

Archbishop Carlo Maria Vigano has gone into hiding since conservative media published an 11-page statement in which he alleged the pope knew for years about sexual misconduct by an American cardinal and did nothing about it.

Vigano has been communicating through Aldo Maria Valli, an Italian television journalist who Vigano consulted several times before releasing his statement last Sunday when the pope was in Ireland.

Italian media has reported he was upset because he was never made a cardinal by former Pope Benedict or because Francis blocked his further advancement in the Church. "I have never had feelings of vendetta and rancour in all these years," he was quoted as telling Valli, who has been publishing statements from Vigano in his blog. "I spoke out because corruption has reached the top levels of Church hierarchy," said Vigano, a former Vatican ambassador to Washington. The Vatican had no comment on the new accusations by Vigano. In his statement, Vigano accused a long list of current and past Vatican and U.S. Church officials of covering up the case of Cardinal Theodore McCarrick, who resigned last month in disgrace. One of the people he attacks in the statement is Cardinal Tarciscio Bertone, who was secretary of state under former Pope Benedict.

In his comments published on Valli's blog, Vigano says he himself gave up the possibility of becoming a cardinal "for the good of the Church". Vigano did not include any supporting documents in his remarkably blunt statement in which he said cover-ups in the Church were making it look like "a conspiracy of silence not so dissimilar from the one that prevails in the mafia".