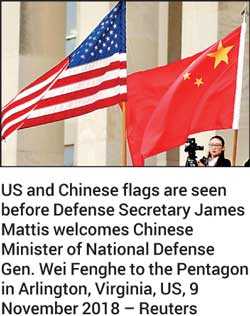 Washington/Beijing (Reuters): Top US and Chinese trade officials are expected to recommit to a Phase 1 trade deal during a review on Saturday, even though China's promised purchases of US exports are far behind schedule.

Current and former US government officials and trade experts in both countries say the Phase 1 deal, signed in January after nearly two years of tit-for-tat tariffs and angry rhetoric, is the one area where the world's two largest economies are still cooperating.

The Trump administration has sanctioned companies and individuals linked to a security crackdown in Hong Kong and human rights, banned a Chinese owned video app, penalised Chinese academics and closed Beijing's consulate in Houston in recent months.

Beijing has responded by closing the US consulate in Chengdu and sanctioning some members of Congress.

Despite the escalating conflict, the Phase 1 trade deal won't be dismantled, US officials say.

"They have said they intend to implement the plan and we are engaged with them," White House economic adviser Larry Kudlow said Thursday. "We have big differences with China on other matters, but regarding the Phase 1 trade deal, we are engaging."

Chinese trade advisors say the slowing of both economies because of coronavirus-related lockdowns has made it difficult to meet purchase targets, but they don't expect the White House to walk away.

"Being able to sit down and communicate with each other is a good thing," said a Chinese state think tank economist who has advised Beijing on the trade deal, while cautioning there was little optimism about further trade breakthroughs.

"It's hard for things to get even worse, while a best case scenario is hard to achieve," said the economist, who spoke on condition of anonymity. "How can flowers grow in such a bad environment?"

China is falling far short of a promised additional $77 billion in purchases of US farm and manufactured products, energy and services, although it has ramped up purchases of US farm goods including soybeans and corn in recent weeks.

Imports of farm goods have been lower than 2017 levels, far behind the 50% increase needed to meet the 2020 target of $36.5 billion.

Beijing has bought only 5% of the energy products needed to meet the Phase 1 first year goal of $25.3 billion.

How to close or explain away this gap will be the biggest challenge for U.S. Trade Representative (USTR) Robert Lighthizer and Chinese Vice Premier Liu He during Saturday's video call.