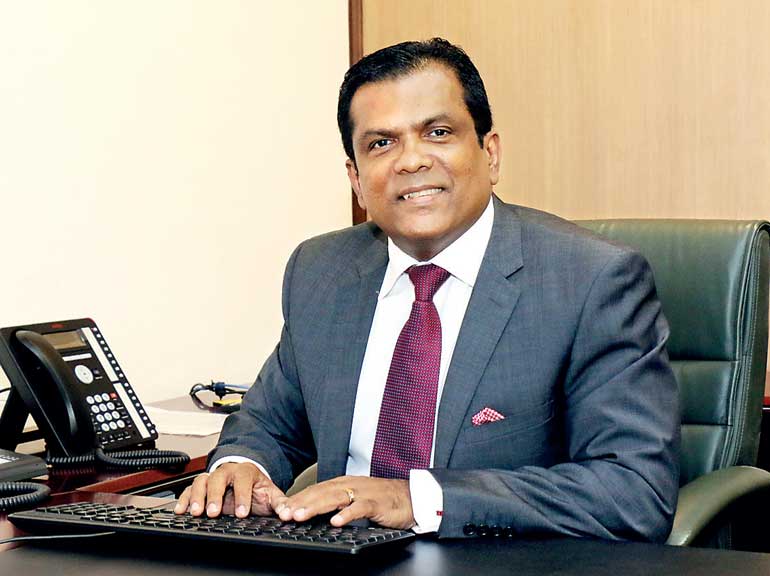 Dinesh Wickremanayake
WNS (Holdings) Ltd., a leading provider of global Business Process Management (BPM) services, announced the appointment of Dinesh Wickremanayake as Managing Director of WNS Sri Lanka.

"We are very excited to have Dinesh join the WNS team," said Keshav R. Murugesh, Group CEO, WNS. "Dinesh brings a wealth of senior management experience to our company, and a track record of success across industry verticals and geographies. We believe he is an excellent fit for our company, and look forward to his contributions."

Dinesh brings over 30 years of experience to WNS. Prior to joining WNS, Dinesh held several senior appointments with Accenture where he helped large Multi-National Companies (MNCs) define and deliver performance management solutions, optimise finance and accounting processes, and create global shared services organisations.

Dinesh, who left our shores 30 years ago has decided to return back to his country of origin to take over the role of Managing Director of WNS Sri Lanka effective 1 July.

Dinesh is a Senior Executive who has lived and worked in Sydney Australia for 30 years with a proven track record in a number of Management disciplines gained working across multiple industry verticals, senior roles and geographies across APAC, NA and EMEA.

Dinesh has gained valuable strategic management and hands-on operational experience in leading, establishing and managing, global business services, shared service centres, Business Process Outsourcing (BPO) in the areas of setting up greenfield shared service sites, large scale transformation programs, pre-sales, sales, solution design, transition and operations delivery, general management, project management, profit and loss management and business process re-engineering (business process reengineering ) across a myriad of industries and multi-national corporations.

Academically Dinesh holds a Bachelor of Business Degree majoring in Accounting & Law and a Master of Business Administration (MBA) degree majoring in General Management from University of Technology Sydney (UTS).

Prior to taking on his new role as CEO of WNS Sri Lanka, Dinesh held several senior appointments with Accenture. During his tenure at Accenture (a global leader and thinker in strategy, consulting and outsourcing), his many achievements included helping large Multi-National Companies (MNCs) such as Microsoft, Johnson and Johnson, National Australia Bank (NAB), Australia New Zealand Bank (ANZ), QBE Insurance and L'Oréal, define and deliver global and regional performance management solutions, large scale finance and accounting process optimisation programs, and the creation of global process organisation and shared services.

Dinesh was at Wipro Consulting Services as the Practice Partner responsible for establishing and leading their finance and accounting transformation practice for Asia Pacific and Japan (APJ). In leading this practice Dinesh was instrumental in setting up the regional strategy and engagement model for the finance and accounting and Business Process Outsourcing (BPO) Advisory Services at Wipro.

Dinesh decided to relocate to Sri Lanka after 30 years to full fill a personal ambition he has to contribute to the growth of Business Process Outsourcing industry opportunities for the youth of Sri Lanka leveraging the infrastructure and footprint WNS has in Sri Lanka.

Dinesh in his new role as MD WNS Sri Lanka is confident of driving exponential growth at WNS Sri Lanka and is looking to build an organisation that prides itself on passion, innovation and par excellence in customer services built on a genuine desire to help WNS global customers outperform.

Additionally, at an industry level Dinesh is keen to get involved with SLASSCOM and infuse excitement and passion for Business Process Outsourcing (BPO) industry amongst the youth of today. This Dinesh hopes to achieve through the creation of job opportunities for Sri Lankan youth designed to improve their skills in the areas of finance and accounting, procurement, human resource, contact centre and legal services.

Close to heart and on a very personal note, Dinesh is also keen to leverage and work with WNS Cares foundation to give back to the weak and disadvantage communities in the island. Accordingly, Dinesh is looking forward to working with a number of charitable organisations in Sri Lanka to bring to fruition his desire to help these sections of our community.