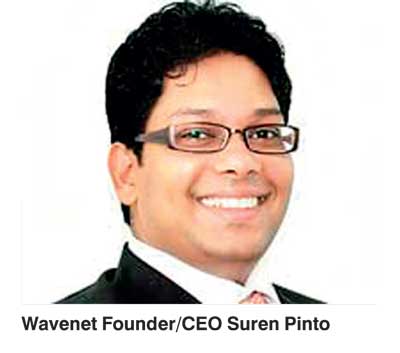 By Hiyal Biyagamage

When travelling abroad, getting connected to a solid internet network is often a frustrating experience. Since data roaming is quite expensive, travellers tend to buy a new SIM card as soon as they arrive in their desired destination.

Swapping the new SIM card with your existing one and exporting all your contacts is another nightmare (for some). If you look at travelling around our own country, finding Wi-Fi hotspots will be difficult because we don't have many. There might be several options but some of them are quite expensive and others would not look practicable but cumbersome.

Wavenet, a leading software solutions company with Sri Lankan roots, has come up with a pragmatic solution for this issue. They call it 'Wifyer'.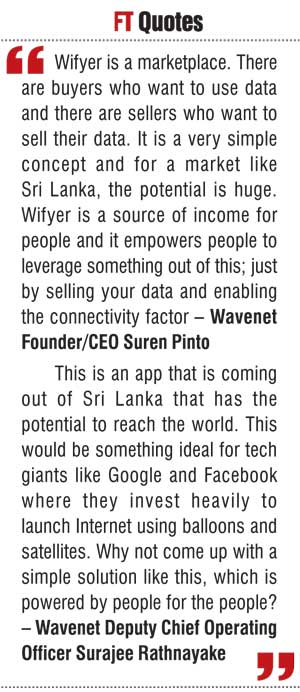 Wifyer is the world's first mobile crowd-sourced Wi-Fi network. To simply put it, anyone who registers with Wifyer can either share their data or consume data from a fellow Wifyer user. The beauty of this whole process is that you will be paid for the amount of data you share within the network.

Wavenet Founder and Chief Executive Officer Suren Pinto told the Daily FT how Wifyer is helping people to build a global network for the people. He also explained how Uber, the revolutionary transportation service, and Airbnb, a platform for people to list, find, and rent lodging, inspired them to create Wifyer.


Inspired by global apps; made in Sri Lanka

"Today, technology has allowed us to break the barriers between consumers and businesses," said Suren. "In good old days, people set up the business and provided services. Thanks to the evolution of technology, the business is you now; yourself only. As an individual, you are the product and you supply your product according to the demand. If you take global services like Uber and Airbnb; their concept is the same. Their technology has helped millions of consumers to come on top of their platform and share their ideas and thoughts."

"We examined these services and technologies and thought of coming up with a solution where we could resolve the connectivity issue using the same logic. That's how we came up with Wifyer. Wifyer is essentially a technology platform powered by a mobile app that allows individuals to create and become a part of a Wi-Fi network. It is a network that is built by individuals, not by a particular company. It is you or me who is a part of this network and we are the ones who decide to share or consume. I can use the hotspot option in my smartphone and say that I am willing to share my data with anybody. You can have a number of sharers in that manner. Another person can now join this network and consume data via a Wi-Fi network that is being shared through Wifyer," said Suren.


Crowdsourcing to the fore

We were joined by Surajee Rathnayake, Deputy Chief Operating Officer of Wavenet, for a small demo of the application. He explained the nitty-gritty of the app, showing us how its simple user interface works, how it tracks usage history, how the session tracker inside the app works, one touch activation and deactivation, solid integration of PayPal and other features.

It is apparent that Wifyer powerfully creates a crowd-sourced network. The sharers and consumers within the network do not need to know each other. There is a benefit for the person who shares his or her network where they will get paid for the service that they will provide, which adds an economical point of view into the app as well.

"Wifyer is a marketplace. There are buyers who want to use data and there are sellers who want to sell their data. It is a very simple concept and for a market like Sri Lanka, the potential is huge. Wifyer is a source of income for people and it empowers people to leverage something out of this; just by selling your data and enabling the connectivity factor," said Suren.

The team behind Wifyer has ensured that there are no security loopholes in the platform. Suren confirmed that Wifyer is not an open network where intruders can sneak on you and said that it encompasses all the necessary security components that a normal WPA2-PSK Wi-Fi network has.

"It is a closed network where the application does all the security negotiations before you join the Wifyer network. The app itself has a number of security layers including password protectiveness."

Surajee also had an interesting idea to add to the conversation. "This is an app that is coming out of Sri Lanka that has the potential to reach the world. People could be downloading this app from anywhere in the world. This would be something ideal for tech giants like Google and Facebook where they invest heavily to launch Internet using balloons and satellites. Why not come up with a simple solution like this, which is powered by people for the people?"


A boost for Wifyer

For all these hard work, Wifyer has been selected for the Boost programme of TNW (The Next Web) Conference which will happen this November in New York, USA. TNW has featured Wifyer with a number of other international startups (100 to be precise) who will battle on to secure new business with the world's most innovative technology companies – both large and small. The conference will attract number of world-leading entrepreneurs, leaders from Fortune 500 companies and venture capitalists.

"It is a massive opportunity for us and also for the Sri Lankan IT industry. To be a part with other global startups and meeting Silicon Valley tech entrepreneurs and venture capitalists will be the perfect opportunity for us. There will be so much to learn from them and we are looking forward to extract few learning out of them so that we could try the out in the local market," said Suren.

Boost is a program dedicated to accelerating the growth of early-stage companies. Since their first edition, TNW has seen participants secure excellent media coverage, influential new customers and millions of dollars in funding. For a small fee, startups that are selected for the program will be provided with an exhibitor stand in our business area and three full conference passes, as well as the opportunity for selection to pitch on stage, a mention in a TNW blog post, curated investor meetings and many more perks.


An informal economic model

Commenting on whether a concept like crowdsourcing would warrant global investments in Sri Lanka since it is not a hot topic in the country, Suren said that crowdsourcing creates an informal economic model within the existing formal economy.

"Crowdsourcing is a concept that is fundamentally changing the economy. It is creating an informal economy out of the formal economy. If you look at the impact created by Uber in some countries; it is massive. Airbnb created a massive change in the global hotel and tourism industries. Is Sri Lanka immune from that? My answer would be no. Look what Airbnb is doing in Sri Lanka. It may have not officially recognised Sri Lanka as a big market but there are few Sri Lankan properties that are being put in Airbnb. Tourists actually come and stay in these places. Those are all informal. Impact of this informal economy is being felt even in Sri Lanka."

"Through ideas like Wifyer, we are trying to reach the global market. You can always have something seeded out of Sri Lanka and take it to the global level. Technology has become something you could not let go off and it has levelled the playing field considerably so that you could be in Sri Lanka as well as in the Silicon Valley. If you have the right idea and the correct execution plan, the world is your platform. We are looking at the whole world as the target right now with Wifyer," he added.


Creating the perfect ecosystem

According to Suren, the company is now looking to create a robust ecosystem for Wifyer with plans of tying up with hotel chains and telecom providers.

"Our biggest challenge is to build the ecosystem. We have to build the buyers, the demand side and sellers which I call the 'other marketplace' and we are only facilitating two parties. Our target market would obviously be travellers who are crossing borders, which is our demand side. When you look at the supply side, it will consist of individuals but it is also businesses. For example, we see the potential for us to partner with hotel chains because they act as another stream of providers. It doesn't matter whether you are an individual or a business. At the end of the day, they will be a part of the same Wifyer network."

"Our strategy today is to build that partner ecosystem and stretch it to many people as we can and make it as inclusive as possible. We can even tie up with telecom providers where they could share their existing Wi-Fi infrastructure to the Wifyer network."


Sustainable revenue through startups

Since Wifyer will be sharing their experience at the TNW Conference as a startup, how should Sri Lanka redefine its startup culture?

Suren responded: "There is a vibrant startup ecosystem in Sri Lanka. People are trying things and coming out with great ideas. I think where they become challenged is in the phase of building sustainable revenue out of the startup. I guess our ecosystem is not really geared for that, starting with the funding ecosystem. It is quite hard for entrepreneurs to go up to institutional investment arms in Sri Lanka and get funding. What happens is that entrepreneurs start with a great idea and when they don't have the funding, people tend to look at actual revenue streams. What happens then is that their initial great idea fades away and they start doing projects such as developing websites and apps.

"We need to build a support ecosystem for local entrepreneurs and startups like you have in other countries, to allow them to execute their initial great idea. As a country and as an industry, that is where we have a huge void. Entrepreneurs also need to show that they have the capacity and strength execute their idea so that people will recognise them."


Is sharing economy feasible?

Commenting on a sharing economy model, Suren said the whole concept is viable for Sri Lanka.

"Take Sri Lanka's tourism industry for example. We are expecting more than two million tourists within the next couple of years. When tourists come in to the hotel, almost all the hotels provided Wi-Fi facility. Some of it is paid and some of it is free. When we had discussions with industry people, we realised that many people go out from hotels. The business case we identified here is that the instant demand of tourists. If they take a picture in Sigiriya, they want to share it instantly. The gap we are addressing here through Wifyer is that providing them connectivity between time they leave a place and the time they arrive to the hotel. They don't have to hop from place to place to search Wi-Fi hotspots now. We have simplified it through Wifyer," Suren said.

It looks like Wifyer has a very positive journey ahead. The ingenuity behind the whole concept speaks of originality and innovativeness. With the fact being Wifyer is world's first mobile crowd-sourced Wi-Fi network; opportunities for the platform in local and global arena will be tremendous. You can download the app in Google Play and within just a month after they launched the beta version; the app has been downloaded over 1,000 times.

"Without being over-ambitious, I believe we could roll this out simultaneously across many countries because it is something that is available in the mobile platform. We don't want to control it. We actually want it to grow," Suren added in a concluding note.

(Writer's note: I received a mail from Suren couple of days back saying that Wifyer has been also selected for the WBA Accelerator Program 2015, hosted by the Wireless Broadband Alliance. WBA Accelerator comprises two dedicated sessions that allow startups and SMEs to pitch their businesses and products to a panel of industry specialists, an invited audience of 70 investors and conference attendees. The team has already flown to California to present Wifyer.)