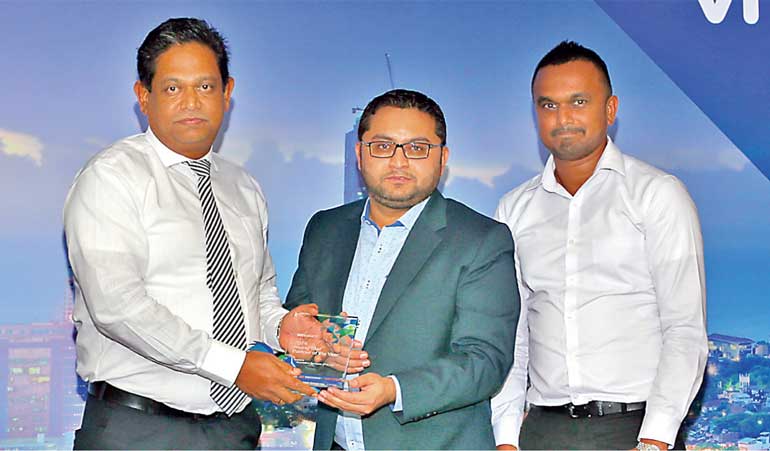 VSIS Co-Founder Prasanna Wijeratne and Manager Enterprise Business Sanjaya Pussegoda receiving the Rising Star Partner Year award from Adrian Hia, General Manager, Nascent Markets and Vietnam VMware Southeast Asia
V S Information Systems Ltd. was recognised as 'Rising Star Partner of the Year' by VMware, a global leader in cloud infrastructure and business mobility at the VMware partner award ceremony held at Hilton Residencies.

VSIS is an enterprise business partner of VMware and has been providing VMware based cloud and virtualisation solutions to many customers including those in the verticals of BFSI, telecom and commercial.

"The rising star category was judged on various criteria from partner skills, revenue growth percentage, marketing campaigns executed and leverage of eco system products. VSIS has performed exceptionally in these areas," stated Suresh Nanthagopal, Territory Manager – Sri Lanka and Maldives.

"We are honoured to receive this award and we are thankful to all of our customers, employees and strategic partners who made this possible," stated Prasanna Wijeratne, a co-founder of VSIS.

He further stated that the certified implementation and support staff including multiple VMware Certified Professionals and the expertise in delivering total solutions including compute, storage and networking was key to VSIS VMware success. He also stated that VSIS will continue to deliver cutting edge VMware technologies to their customer base including software defined data centre, software defined networking and cloud.

Under the motto 'The Technology Partner That Powers Business' VSIS has been providing ICT solutions to many organisations in Governmental, telecommunication, banking, finance and commercial sectors. In its eight years of operations VSIS has provided total ICT infrastructure solutions to many leading institutions in Sri Lanka.

VMware is the leader in virtualisation and cloud infrastructure solutions that enable businesses to thrive in the Cloud era. Customers rely on VMware to help them transform the way they build, deliver and consume Information Technology resources in a manner that is evolutionary and based on their specific needs. The company is headquartered in Silicon Valley with offices throughout the world and can be found online at www.vmware.com.