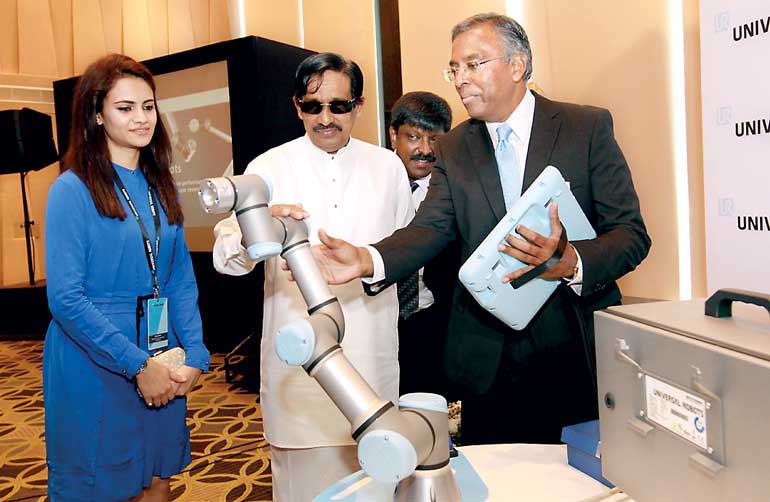 From left: Richa Misri - Head of Marketing Universal Robots Sri Lanka and India, State Minister for Industry and Commerce Champika Premasa, Pradeep S. David - General Manager India Universal Robots, at the launch in Sri Lanka
10 Co-bots already sold to textile, confectionery, plastic firms in SL
General Manager confident of selling 50 Co-bots per annum as demand picks up
Utilised for out-of-box functions from photo shoots, bartending, fashion shows, coffee machines, surgical procedures,
physiotherapy and sports therapy
At present over 10,000 Co-bots are deployed globally
By Charumini de Silva

Universal Robots, a Danish robot manufacturer which invented and pioneered collaborative robots or Co-bots, was unveiled in Sri Lanka and talked about the availability of this technology to various industries yesterday in Colombo.

Co-bots are a technology upgrade from industrial robots which are designed to collaborate and work with humans and assist them in a variety of tasks.

Commenting at the launch, Universal Robots General Manager Pradeep David said in a developing economy like Sri Lanka automation in every field will enhance production and generate advancements in the technological sector.

Universal Robots through their local distribution arm Techfield Ltd. has already sold around 10 Co-bots to apparel, confectionary and plastic companies in Sri Lanka at a price ranging from INR 1,200,000 (Rs. 2.6 million) to INR 2,000,000 (Rs. 4.4 million).

He added that they were delighted to be able to provide the platform required for the Sri Lankan market for increasing productivity, quality and market competitiveness.

"For a country like Sri Lanka, which is looking at a fast pace of development and at the same time would like to adopt cost-effective yet efficient technology, co-bots would be the right way to go, especially for small and medium-sized enterprises (SMEs) which form a major part of the business ecosystem," he added.

He also said that at a time where human capital is scarce in economies, Co-bots would be a great viable alternative. These Co-bots are utilised for an assortment of out-of-box functions ranging from photo shoots, bartending, fashion shows, coffee machines, surgical, physiotherapy and sports therapy procedures.

"Going forward, we are looking at around 50 Co-bots to be sold per annum in Sri Lanka as the demand is picking up at a significant pace. We have received interest from motor vehicle component manufacturers as well," he added.

It was pointed out that with the Co-bots, companies would be able to enhance productivity levels close to 85%. The lifespan of a Co-bot is 35,000 hours on full capacity, full load and at full speed. "We have been in operation for the past six years and have had no breakdown or annual maintenance cost."

David said the growth of the economy of a nation would be gauged by increasing productivity in the industry as a whole and in the future Co-bots would be a critical factor as human-robot collaboration was an integral part of Industry 4.0.

Persistent efforts resulted in the evolution of robot arms - UR3, UR5 and UR10 - which can carry a payload of 3 kg, 5 kg and 10 kg respectively. At present the company has the third generation in use and the fourth generation is expected to be out in the market next year. At present, over 10,000 Co-bots have been deployed globally.

He said Co-bots technology can be used to benefit all aspects of task-based businesses irrespective of their size. "We have a full-fledged application lab set up in Bengaluru (Indian headquarters) with a UR3, UR5 and UR10 for customer training and proof of concept purposes."

Co-bots can be especially useful in ensuring a safe work environment, which can also help automate and streamline repetitive and potentially unsafe processes, while acting as a helping hand to increase productivity and efficiency.

The launch was attended by key stakeholders, engineers, universities and a host of other dignitaries representing the Government and customers. The company is headquartered in Odense, Denmark, where all development and production are carried out.