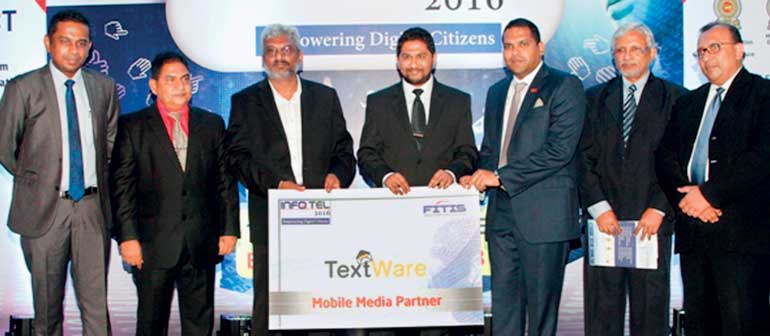 TextWare making a token presentation to signify its role as the official Mobile Media Partner of the INFOTEL – 2016 exhibition to FITIS, the event's organiser. From left: FITIS Secretary Pujitha Rajapakse, INFOTEL Main Organising Committee Chairman Sudath Amarasinghe, FITIS Chairman Vasantha Weerakoon, TextWare Head of Business Development Derrick Jayasinghe, Minister Harin Fernando, Ministry of Telecommunication and Digital Infrastructure Secretary Vasantha Deshapriya and FITIS Deputy Chairman Dr. Kithsiri Manchanayake
TextWare Ltd. has joined hands as the official Mobile Media Partner of the premier ICT exhibition INFOTEL – 2016.

Organised by the Federation of Information Technology Industry Sri Lanka (FITIS), INFOTEL – 2016, which is the biggest and most prestigious Information and Communication Technology (ICT) exhibition in Sri Lanka, as well as the whole of South Asia, will be held from 11 to 13 November at the Bandaranaike Memorial International Conference Hall (BMICH) in Colombo.

Expressing his views on this partnership, TextWare Chief Executive Officer E.P.C. Ruwan Kumara said: "INFOTEL is Sri Lanka's premier ICT exhibition, and has been conducted by FITIS as its annual flagship event for the past 24 years. As a key player in the telecommunication business for the past six years, TextWare is a frontrunner in providing enterprise messaging solutions to leading companies and brands locally and internationally. I believe that INFOTEL is the perfect platform to showcase our achievements and also to gain industry exposure."

"TextWare was formed by a group of individuals with over 40 combined years of industry experience in Telecom value added services development, implementation and delivery. We specialise in providing turnkey mobile software solutions and outsourced services to enterprises in any type of business; banking, telecom, IT services, production or service industry. TextWare has wide understanding and knowledge of the telecommunications industry and the emerging value added services market, and the convergence of the two to assist organisations keep abreast of latest market trends and technological advancements. As a professionally operated company, we focus on servicing our valued clients with the aim of introducing mobile applications to enhance their existing systems to ensure efficiency and create a competitive advantage through mobility and telecommunications domain knowledge and skills," Ruwan Kumara further said.

While concentrating on developing unique customized products to best suit customer specifications and requirements, TextWare has adequately equipped itself to offer services to any organisation in partnership with Mobile, CDMA and landline operators. This makes TextWare a one-stop shop for convergent messaging and communication requirements.

TextWare adds value through convenient and user-friendly messaging and communication across all levels of employees, improves operational efficiency, assists in client acquisition and management in new markets as well as in market development strategies, maximises revenues, optimises resource utilisation and improves customer service and experience.

Speaking about INFOTEL – 2016, Main Organising Committee Chairman Sudath Amarasinghe said: "INFOTEL – 2016 'Empowering Digital Citizens' is aligning with national priorities of enhancing the digital infrastructure of the country for facilitating a digitally empowered eco system while improving citizens' engagement in a digital society. Telecommunication and digital infrastructure has been identified as two of the key areas that would define the future of the nation by the Government of Sri Lanka, aiming to enhance the living standards and quality of lives of the citizens. INFOTEL 2016 will be the platform to re-imagine everyday products and services as a whole new digital world of intelligent devices and systems."

INFOTEL 2016 is endorsed by the Ministry of Telecommunication and Digital Infrastructure, Ministry of Education, Ministry of Higher Education, Ministry of Defence, Ministry of Skills Development and Vocational Training, ICT Agency of Sri Lanka-National Partner and partnered by many private sector organisations such as 'Sri Lanka Telecom – Principal Sponsor, Orange IT – Gold Sponsor, Sala Enterprises – Silver Sponsor, Wijeya Newspapers – Print Media and Web Partner, Payhere – Digital Payment Partner, ATOM – Digital Signage Partner. SLASSCOM, CSSL and BCS Sri Lanka Section have endorsed the event as 'Industry Partners'.

FITIS is organising this landmark event in the ICT calendar for the 15th consecutive time. The theme of this year's exhibition will be 'Empowering Digital Citizens'. Further, INFOTEL – 2016 will serve as a platform to re-imagine everyday products and services as a whole new digital world of intelligent devices and systems.

This year's exhibition with over 200 stalls expects a patronage of over 100,000 local and international visitors, including the decision-makers of leading local and international organisations. INFOTEL – 2016 will showcase the application of hardware, software and amp services, intelligent systems, Cloud, mobility, internet, etc. with the primary objective of building a new technology era.