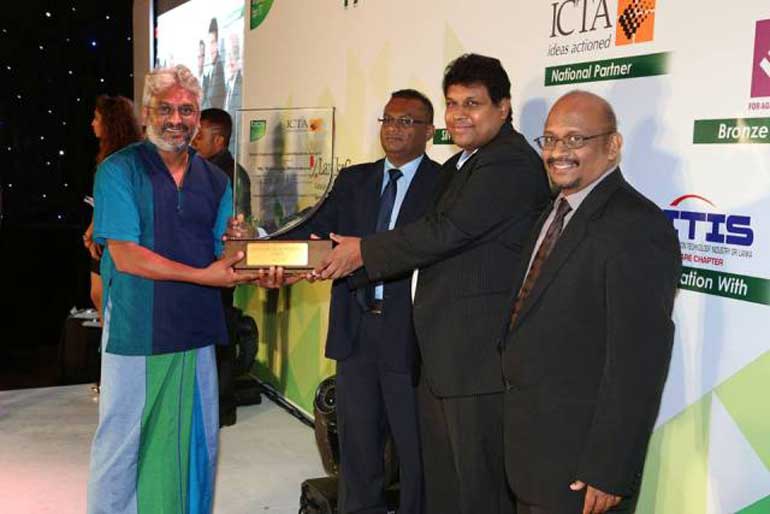 From left: Wasantha Weerakoone, NBQSA 2015 Organising Committee Chairman Vajeendra Kandegamage, ICTA CEO Muhunthan Canagey,

BCS Sri Lanka Section Chairman Prof. Gihan Wickremanayake
Tech One Global Chief Operating Officer Wasantha Kumara Weerakoone has received the Most Outstanding Contribution Award from the National Best Quality ICT Awards (NBQSA) 2015. The event was organised by the British Computer Society, Charted Institute for IT (Sri Lanka Section) and was held at the Grand Ballroom of the Galadari Hotel, Colombo.

The Lifetime Achievement Award is offered by the BCS Sri Lanka Section in collaboration with ICT Agency of Sri Lanka (ICTA) to recognise the outstanding achievements in the ICT industry of Sri Lanka.

For more than 28 years, Weerakoone has served the ICT industry, generating over 300 employment opportunities including opportunities for young school leavers and developing them through mentoring, training and providing financial support in their higher education. He also supported over 40 persons to become IT graduates up to MBA level in document management and software development projects.

Moreover, he generated foreign exchange by implementing document management projects of many foreign markets including the Philippines, Brunei, Bangladesh, Nepal and the US. Werakoone also initiated the development of Enadoc document management system and Etikado photo management app. He also led the Birth, Marriage and Death Certification project and National Census Project and the National Census Project, to name a few.

What Weerakoone received was a Lifetime Achievement Award for most outstanding contribution to the ICT industry of Sri Lanka, specifically on being 'instrumental to the growth of the Sri Lankan IT industry'.

The National Best Quality ICT Awards (NBQSA) competition is an annual event organised by the BCS The Chartered Institute for IT (BCS, The CIIT) Sri Lanka Section. The avowed objectives of the NBQSA competition are threefold; to provide recognition to outstanding achievements of individuals and organisations in Sri Lanka who/which have contributed to the development of ICT, to create a window to gain international recognition for locally developed ICT products and to improve standards and the quality of local ICT products and services to be able to compete in the international market place. The competition has been conducted in Sri Lanka by the Sri Lankan section of the BCS The Chartered Institute for IT over the past 17 years.

For more than a decade, Tech One has been committed to offering client-oriented services focused on facilitating efficiency, innovation, and creativity in the field of information technology. From software solutions developments to enterprise software distributions, from document management to business process outsourcing services and from learning solutions to IT certifications, Tech One offers a range of products and services that adapt to today's trends in business and IT. We operate globally. Learn more at www.techoneglobal.com.