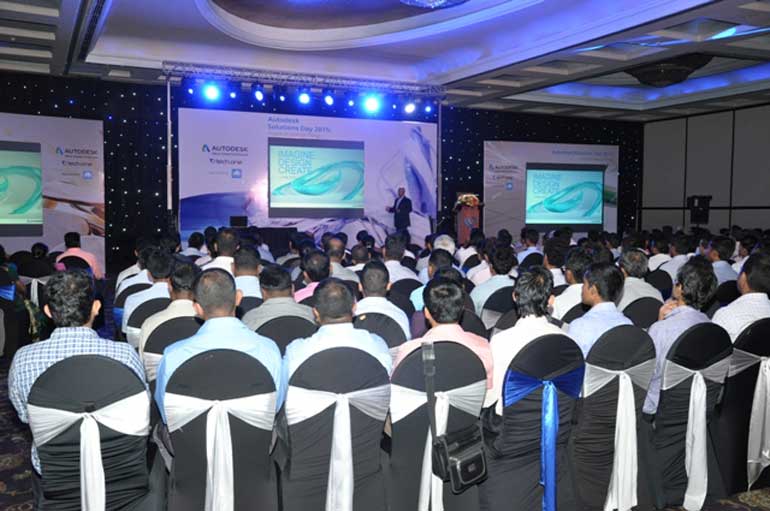 Tech One Global, in partnership with Autodesk, held the second consecutive 'Autodesk Solutions Day' recently at Waters Edge.

Autodesk's vision is to imagine, design and create a better world. Autodesk is heavily used in architectural, engineering and construction industries along with manufacturing, media and entertainment industries.

As many other software vendors, Autodesk will be moving toward cloud-base licensing by 2016. After 31 January 2016, new perpetual licenses for individual software products will not be available for purchase.


Desk Top Licensing (DTS) will help developing economies like Sri Lanka to purchase genuine software licenses due to less initial investment and ease of adding and removing license. The Solutions Day focused on the latest features added in version 2016 in mostly used software like AutoCAD, Revit and Inventor.


The Media and Entertainment segment focused on Flame Premium which is becoming very popular. Solutions Day 2015 focused on Building Information Modeling (BIM) standard which is changing the landscape of AEC segment.


Autodesk, Inc. is a leader in 3D design, engineering and entertainment creation software. Customers across the manufacturing, architecture, building, construction, and media and entertainment industries, including the last 19 Academy Award winners for Best Visual Effects, use Autodesk software to design, visualise, and simulate their ideas before they're ever built or created.

From blockbuster visual effects and buildings that create their own energy to electric cars and the batteries that power them, the work of Autodesk 3D software customers is everywhere you look. Autodesk has 2400+ channel partners, 7390+ employees worldwide and had a fiscal revenue of $ 2.3 billion in 2013.


For more than a decade, Tech One has been committed to offering client-oriented services focused on facilitating efficiency, innovation, and creativity in the field of information technology. From software solutions developments to enterprise software distributions, from document management to business process outsourcing services and from learning solutions to IT certifications, Tech One offers a range of products and services that adapt to today's trends in business and IT. The company operates in Brunei, Bangladesh, Nepal, Philippines, Sri Lanka, and the United States. Learn more at www.techoneglobal.com.