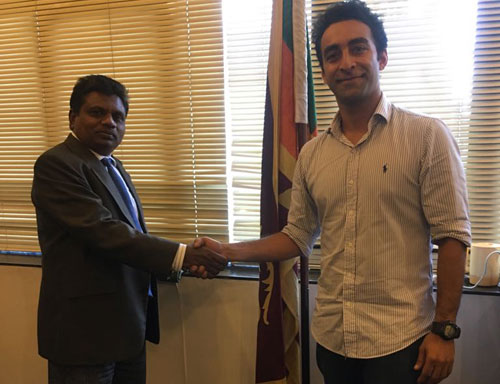 National Water Supply and Drainage Board Chairman K.A. Ansar (right) with eTenders Director Rehan Grero
Sri Lanka's most comprehensive and accurate tender alert service, eTenders.lk, is ripping through red tape and greatly improving transparency in the tender issuing and procurement processes in Sri Lanka, providing the perfect solution for all private and public institutions.

Before its humble beginnings in 2012, eTenders Director Angelo Sugunasekera identified the absence of a Sri Lankan entity in the e-tenders market which prompted him to commission the creation of the eTenders.lk website.

Having worked for several years in e-procurement, Sugunasekera realised that this would be the perfect opportunity to streamline the tender procurement process in the country and bring about some much-needed speed and transparency to the practice.

eTenders allows its clients to upload tenders, tender results, minutes and tender documents directly onto the site while interested parties can download them easily, evading the time-consuming hassle that has become synonymous with obtaining relevant tender documentation.

"Our service attempts to eradicate all the inefficiencies and impediments in the tender process. We have made it as simple as possible for clients by providing them a backend that allows them to upload whatever related documents directly. It's a very simple plug-and-play service," Sugunasekera explained.

Currently, the eTenders team scours daily newspapers and websites for published tenders that are then uploaded onto the website. Meanwhile, suppliers have a user-friendly, categorised interface through which they can easily access relevant tenders and its documents for an annual subscription fee of Rs. 25,000.

Five years since its inception, with over 85,000 tenders published, eTenders has over 600 client companies with an ever-growing portfolio including state institutions such as the State Pharmaceutical Manufacturing Corporation (SPMC) as well as the National Water Supply and Drainage Board (NWSDB) which it recently signed a Memorandum of Understanding with.

NWSDB Chairman K.A. Ansar shared his enthusiasm with the link up as he said that it would increase competition and grant better exposure of tenders to local and international clients while giving them access to a larger pool of suppliers.

"The service not only helps institutions in terms of paperless solutions and going Green but also increases tender exposure with its category selection option, notifies clients by email with a ticker for the time remaining for submission, and exposes tenders to international clientele, for no additional cost," Ansar added.

eTenders Director Rehan Grero stated that the next step for the company was to get government institutions to come on board, as he felt that this would be greatly beneficial to the country.

"We are currently approaching several state institutions and ministries. The initial feedback is always positive but sometimes things don't move as fast as we'd like. Getting approvals always seems staggered and slow. This is a service we want to offer free of charge to the Government as our ultimate goal is to become the national e-procurement platform," he stated.

eTenders is also working on building Sri Lanka's first comprehensive, total solution e-procurement platform to make eTenders the one-stop-shop for all tender-related transactions. With the Government spending hundreds of billions of rupees each year through public procurement, Grero believes that this platform could save the country billions over time, as well as providing unparalleled transparency in public administration.

"The level of transparency we offer is something that we feel this country needs and it falls in line with the current administration's aspirations. We have offered this service for free. We don't believe in charging state institutions a cent because we actually feel like this will benefit the nation immensely and we think it will set in motion a culture of transparency," he added.

The year they launched the website eTenders had just 25 clients but the site was soon recognised for its user-friendly interface and its pioneering service. In its first year, the team won the ICTA-eSwabhimani Award 2012 under the main category eBusiness and eCommerce. It also won the ICTA Spiralation Project, with a grant of $ 5,000, and was recognised by ICTA as one of the most promising and innovative IT companies in 2012.