Partnership aimed at addressing the enterprise IT market in Sri Lanka
South Asian Technologies (Ltd. (SAT), a leading distributor of ICT products yesterday announced its appointment as the National Value Added Distributor for Stratus Technologies, the "Always-On" solutions that enable rapid deployment of infrastructures, from enterprise servers to clouds, without any changes to your applications.

The partnership strengthens Stratus Technologies reach into the enterprise IT market in Sri Lanka and facilitates sustained engagement with new partners in larger cities as well as extending its reach in high growth regions.

"This partnership with Stratus Technologies will help us and our partners diversify our portfolio, and help address the availability and application delivery needs of the diverse businesses in the country," South Asian Technologies CEO Sanjaya Padmaperuma said.

SAT focuses on distribution of ICT products for leading security, network and storage providers in Sri Lanka. It engages in a multi-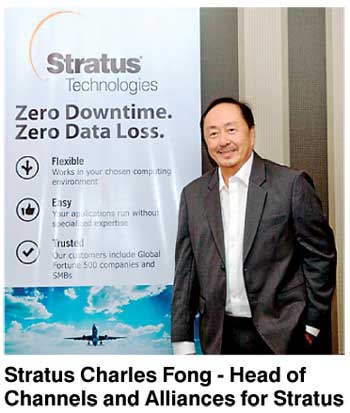 layered software distribution and has holistically expanded its role from logistics of distribution to training, market development, product positioning, taking the product gospel direct to the customer and partner network building initiatives. SAT has operations in Sri Lanka, Bangladesh, Maldives and Nepal and has a partner network of over 150 companies.

"The SAT/Stratus partnership marks a new era as it enables Stratus to target specific vertical industry sectors through a revamped channel strategy and business expansion across the Asia Pacific region," Stratus Technologies Head of Channels and Alliances Charles Fong said.

He added that the company's partnership with SAT aims to help address a key business function in the market –zero downtime and zero data loss and maintaining data integrity by mitigating against the security risks posed by server and application downtime.

With this partnership with SAT, Stratus Technologies aims to diversify and tap the growing enterprise IT market in Sri Lanka.

South Asian Technologies (Pvt) Ltd.: South Asian Technologies Ltd. is a private limited liability company registered in Sri Lanka for the purpose of distribution of ICT products. SAT has operations in Sri Lanka, Nepal, Bangladesh and Maldives and works with a partner network of over 150 companies. We are proud to be the master distributors of leading ICT brands like Symantec, CheckPoint, Intel Security, Vision Solutions, IBM and many more. SAT believes that the success of any product in a market place depends entirely on how well the product is distributed.

Stratus Technologies :Stratus Technologies is a privately held company, owned by Siris Capital Group. Originally founded in the computer heydays of the 1980s as "Stratus Computer," the company has been committed to the art and science of always-on computing from the start. Stratus' solutions enable rapid deployment of always-on infrastructures, from enterprise servers to clouds, without any changes to your applications.