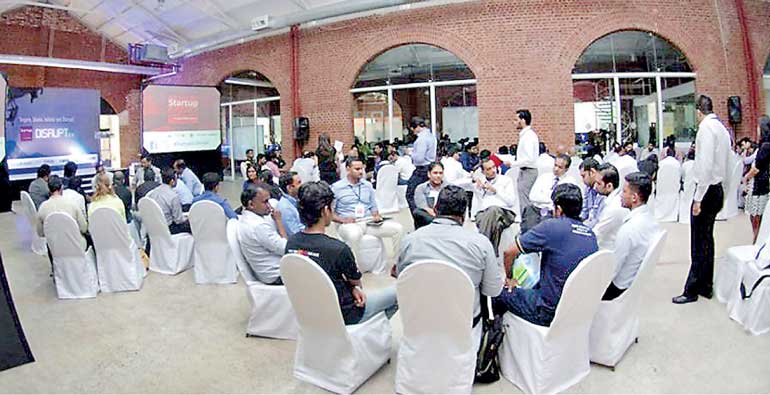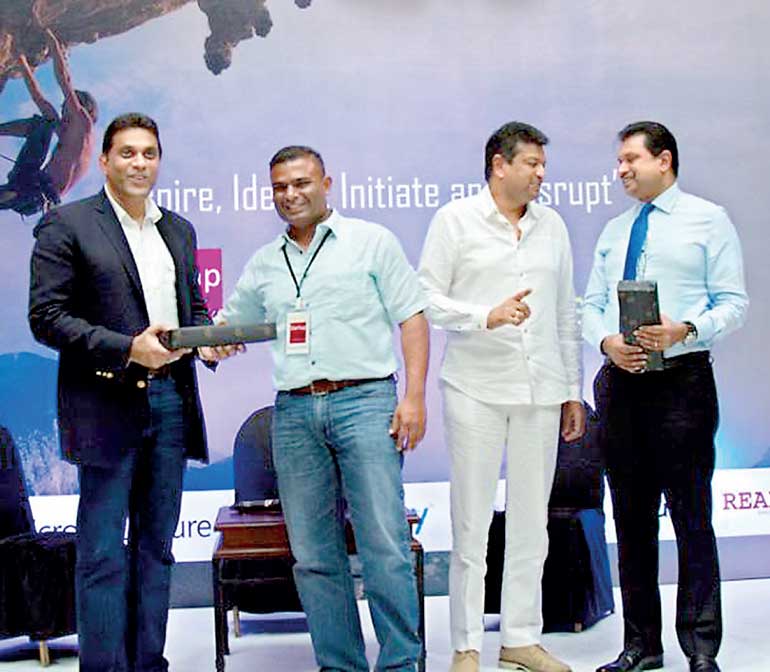 From left: Millenium IT Founder and Ustocktrade Chairman and CEO Tony Weerasinghe, Stax MD and SLASSCOM Vice Chairman Ruwindhu Peiris, 99X Technology CEO and SLASSCOM Chairman Mano Sekaram and Laugfs Chairman Hemachandra Wegapitiya
Startup Sri Lanka, the recently launched initiative from the Sri Lanka Association Software and Services Company (SLASSCOM) held Disrupt 2.0, a startup bootcamp for potential and existing startups with the theme 'Inspire, Ideate, Initiate and Disrupt' on 9 December at Trace Expert City.

The bootcamp session inspired, engaged and mentored many startups beginning with an introduction to Disrupt 2.0 and what it aims to achieve followed by a discussion session between start-ups, mentors and subject experts. Many startups, grouped into teams consisting of five members each, had the opportunity of getting their questions answered – from marketing, sales, funding, bootstrapping, risks, innovation and so on.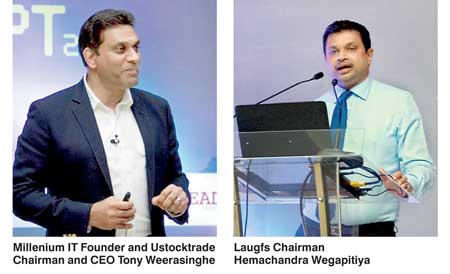 Calcey Technologies CEO Mangala Karunaratne said, "Sometimes all you just need is a bit of morale boost through entrepreneur camaraderie to keep kicking to stay afloat as a startup. Sometimes it's networking with friends, mentors, advisors and investors to level-up whatever the gaps you may have. Our goal of the bootcamp is to help build a strong startup eco-system to share knowledge and experience."

"Then during the inspirational talks we managed to inspire entrepreneurs as well as convince some of the most ambitious young employees that the corporate ladder is getting obsolete."

The welcome speech was delivered by SLASSCOM Chairman Mano Sekaram – followed by Laugfs Chairman H. Wegapitiya, Microsoft Country Head Wellington Perera and Millennium IT Founder and Ustocktrade Chairman/CEO Tony Weerasinghe addressing the audience with SLASSCOM Vice Chairman Ruwindhu Peiris moderating the Q & A session.

"To become a successful entrepreneur you have to have the hunger and the drive to make it happen even when others don't see it happening. Whatever adversity you face always stay focused and don't change your business," said Tony Weerasinghe.

H. Wegapitiya said, "Trying to be a jack of all trades isn't a crime. As an entrepreneur you have to dream big and articulate your dream into reality. If you don't work on your dream someone else will hire you to make theirs."

Mentors of the bootcamp were Microimage Founder/CEO Harsha Purasinghe, Wavenet and Wifyer CEO Suren Pinto, Calcey Technologies CEO Mangala Karunaratne, Cingergix CEO Chandika Jayasundera, Capaxus Ltd. CEO Shahani Markus. SLASSCOM Vice Chairman Ruwindhu Pieris said, "Successful entrepreneurs are those that can effectively manage the paradox of optimising the currently available resources to deliver efficiently while constantly looking ahead for opportunities to innovate and investing in them."

The subject experts for the Disrupt 2.0 Bootcamp included Regus Country Manager Dr. Michael Nirmal De Silva, Orion City CEO Jeevan Gnanam, Lanka Bell MD Dr. Prasad Samarasinghe, Sudath Perera Associates Senior Partner Sudath Perera, SECQUERO CEO Naresh Abeyesekera, PwC Advisory Leader/COO Channa Manoharan, WSO2 VP Marketing Dilendra Wimalasekere, hSenid Group Founder and CEO Dinesh Saparamadu, Storylize Founder Nayana Samaranayake and SimCentric Technologies COO Haridhu Abeygoonaratne.

SLASSCOM is the national chamber for the IT/BPM industry in Sri Lanka and acts as the catalyst of growth for the Sri Lankan IT and BPM industry by facilitating trade and business, propagation of education and employment, encouragement of research and innovation, and by supporting the creation of a progressive national policy framework. It has an ambitious 2022 Vision to become a $ 5 billion industry, creating 200,000 direct jobs and launching 1,000 start-ups.