Chinese giant has invested $ 44.6 b in R&D during the past decade
Global revenues up $ 75.1 b in 2016 from $ 35.5 b in 2012
By Nisthar Cassim
​

Huawei Technologies Co. Ltd. the Chinese multinational networking and telecommunications equipment and services company, is viewing Sri Lanka as an important growth market.

"Huawei Group revenue in all three business segments – carrier, enterprise and consumer – increased globally by 32% in 2016. Huawei has operations in over 170 countries and regions; serving 1/3 of the global population. Sri Lanka is a very important growth market," Huawei Technologies Co. Ltd. Senior Media Affairs Manager Cao Yang told a group of visiting Sri Lankan journalists recently in Beijing.

She didn't disclose specific data on Huawei's success or growth in Sri Lanka, but at least in terms of smartphone business under consumer segment Huawei via its local office has said it ranks as the No. 2 smartphone brand with a market share of 30% according to GfK reports.

Huawei Group global revenue in 2016 was $ 75.1 billion, up from $ 60.8 billion in the previous year. In 2012 global sales were only $ 35.5 billion. Operating profit in 2016 was $ 6.8 billion whilst it was $ 3.3 billion in 2012.

The carrier business of Huawei is the biggest with a 56% share and had grown by 24%. The consumer business which accounts for 35% of Group revenue had grown faster by 44%. The enterprise business of Huawei accounting for 8% had grown by 47% in 2016.

Speaking to Sri Lankan journalists at the Huawei Executive Briefing Centre in Beijing, Yang said the brand has been achieving steady growth in all regions.

Quoting Huawei founders and senior management ethos, Yang said the Company's philosophy is "Huawei will never go for low price, low cost, or low quality, as this would undermine the strategic advantage we have built over the past two decades."

Whilst China understandably commands the largest market with 45% revenue share had grown by 41%. Europe, Middle East and Africa contributes 30% of the revenue and had enjoyed 23% growth. Asia Pacific under which Sri Lanka comes, accounts for 13% revenue share but had produced 37% growth in 2016. Huawei's business in Americas accounting for 8% share had grown by 13%.

She also said Huawei has grown building Centres of Excellence in places with strategic resources, localizing operations. It employs over 180,000 consisting of over 160 nationalities. Of the employee base, over 30,000 are non-Chinese reflecting a higher localisation rate. Huawei also has 15 research centres and 36 joint innovation centres worldwide.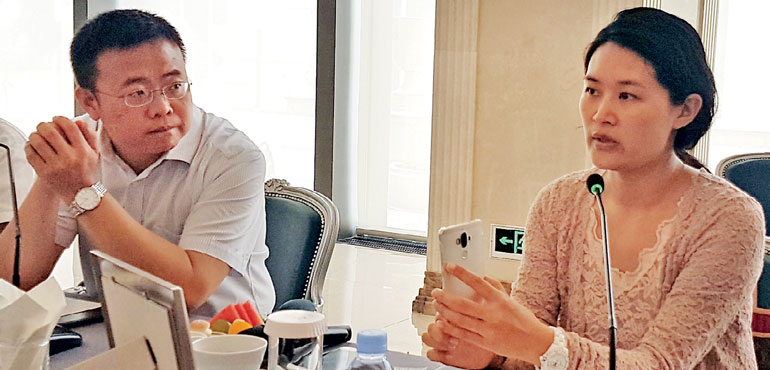 Huawei Technologies Co. Ltd. Senior Media Affairs Manager Cao Yang (right) addressing the visiting Sri Lankan journalists at the Huawei Executive Briefing Centre in Beijing. China Embassy in Sri Lanka's Second Secretary, Political Section, Liang Zhijun is also present


According to Huawei, the world will be entering an intelligent eco-system in the next two to three decades with devices sensing all things, pipes connecting all things and both via the cloud.

"Huawei will be an enable and driver of this intelligent world," Yang explained.

The explosive growth of video was also emphasised requiring the industry to achieve breakthrough in terms of delivering low-cost broadband and low-latency networks.

In that context Huawei is focused on building more connections, driving broadband adoption, enabling industry transformation. This strategy will enable video to become a basic service of telcos which means driving broadband adoption. Another is connecting the unconnected requiring shift from narrowband to broadband by building more connections especially in the context of "Internet of Everything."

Huawei is also focused on leading the transformation of IT systems towards cloud architecture thereby enabling IT transformation especially via the cloud.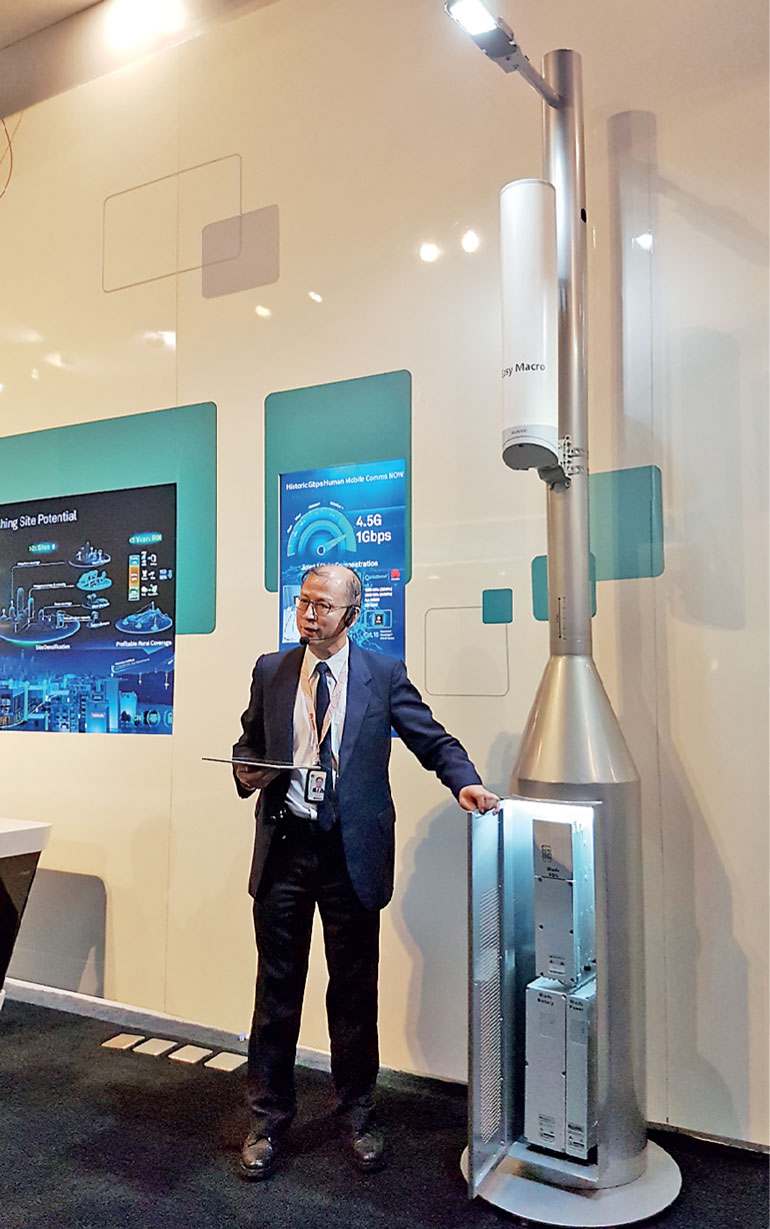 An official of Huawei explaining a futuristic and dual purpose telecom tower switch with battery-powered street lighting facility on show at the Huawei Executive Briefing Centre in Beijing


To achieve operational transformation or digitalisation, Huawei is enabling and driving the digital transformation of key industries as well as enable telcos "internetised operations" and real time, on-demand, all-online, DIY, and social (ROADS) user experience.

This broad strategy and vision is being realised by heavy investments. According to Yang, Huawei invested 14.6% of annual revenue in R&D, making it more competitive, pushing the industry forward, and driving technological advances. Total R&D investment over the past decade is $44.6 billion. Huawei has also earmarked $ 10-20 billion for annual R&D investment for the future.

Huawei is ranked 129 in Fortune Global 500, 47th among the World's Top 100 Most Valuable Brands in 2016 in accordance with Brand Finance. Huawei had also been recorded to have achieved the No. 72 status on Interbrand's Best Global Brands list.

According to Yang, key factors behind Huawei's sustainable growth, are strategic direction that focuses on pipe strategy and ICT infrastructure for data transmission, heavy persistent investment to drive technological breakthroughs and a value driven system that shares value with global workforce to maximise value creation. All of these with prime focus on customer.