The Department of Person Registration (DRP) took home the Radiant Launch Award at the first Radiant eID Awards ceremony, held on 1 December at Pan Pacific Sonargaon in Dhaka. The first Radiant eID Awards was organised by The Asia Pacific Smart Card Association (APSCA) for visionary and innovative use of smart technology for public and private sector identity applications.

APSCA (www.apsca.org) is an independent regional industry association for organisations in the smart card, smart devices,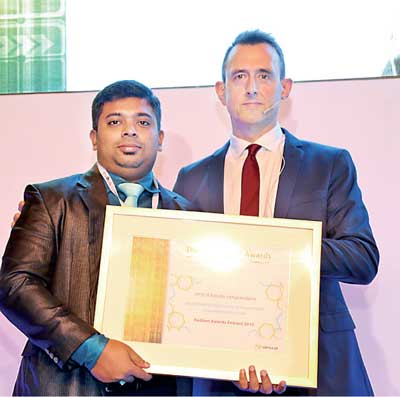 contactless, mobile contactless/NFC, and ePassport businesses. Focusing on multi-sector business and government applications, it is the only professional association for smart cards covering the Asia Pacific. APSCA is also a part of the Smartex organisation (www.smartex.com), an international group of smart card forums around the world with offices and organisations in Europe, the Middle East, Africa and the Asia Pacific. Each of these organisations is a professional association of member companies and constitutes a forum for education, debate and promotion of all aspects of smart card and related technologies, standards, applications and schemes.

DRP clinched theaward working in partnership with Informatics working on the InfoIDsystem. As Sri Lanka's integrated registration and identity system, InfoID was selected from a pool of 26 global entries. The evaluation criteria for the award focused on a broad range of factors including designing, planning, development, deployment, efficiency of rollout, eID technologies (open, future proof, flexible) and benefits for government, citizens and residents.

InfoID was developed for the department working with Informatics to enable fair and efficient service to all applicants. The service is also geared to enable easy monitoring, transliteration to native languages as well as ensuring a national policy of one identity card per person.

Commenting on the win, Informatics Group Managing Director Hiran Wickramasinghe said: "Informatics is proud to see our hard work on this project rewarded in the international arena. Smart card and Biometric technology are becoming increasingly pervasive and is being adopted for a growing number of important private and public sector applications. Trends suggest that biometric technology will soon constitute a significant component of most future IT systems in authentication and access control. Informatics is proud to lead the way in this sphere and we are dedicated to advancing these technologies and helping build better futures."

This marks the second time in 2015 that Informatics' InfoID solution has been recognised internationally this year, the first recognition being at the recently concluded Asia Pacific ICT Alliance Awards (APITCA) where the InfoID system was selected as the outstanding ICT innovation dedicated to delivering improved government and public sector service delivery.

Commencing operations in 1983, Informatics international today hosts some of the most cost innovative enterprise integrated solutions that include products and services for sectors such as telecommunications, banking, insurance, automobile, border control and defence.

Having branched out to the international domain by having its presence in several Asian, African and Pacific Island regions, and using its core philosophy of 'Building Better Solutions through Integration' Informatics offers numerous solutions catered to increasing the efficiency and operating functionality of any business or organisation by tailor making them to match the needs of the global environment.