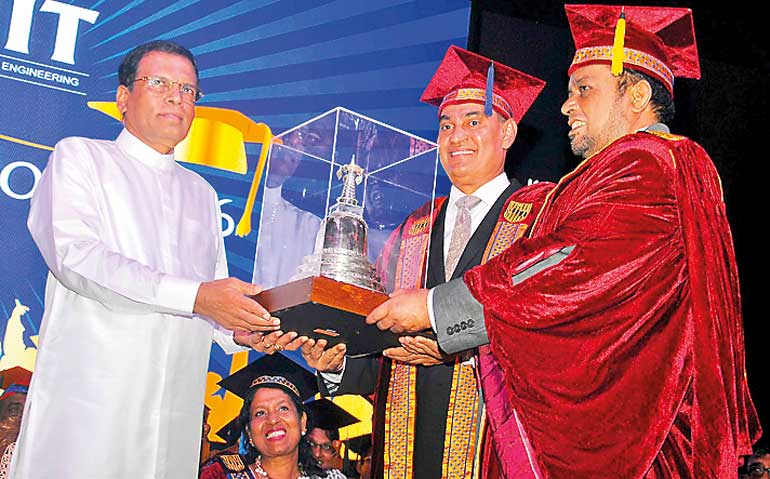 President Maithripala Sirisena, the Chief Guest and the keynote speaker at the SLIIT convocation held yesterday receiving a memento from SLIIT Managing Director Professor Lalith Gamage (second from right) and SLIIT Chairman Professor Lakshman Ratnayake (extreme right)
The ceremonial start to Sri Lanka Institute of Information Technology (SLIIT)'s convocation 2016, held at their picturesque Malabe campus, was attended by President Maithripala Sirisena, creating history in the university's 16-year legacy.

The 14th graduation ceremony of the institute conferred degrees on 1,017 graduates, which had the President and Managing Director of SLIIT Professor Lalith Gamage emphasise the critical role SLIIT's education plays in creating a talented, versatile and job-ready generation.

"We are honoured that President Sirisena is our Chief Guest and keynote speaker," expressed Professor Gamage. "We are also thankful to the distinguished academic and corporate leaders who are part of the convocation ceremonies and who will be awarding accolades to the graduates."

The convocation agenda had plenary session speakers including Sri Lanka Medical Association President Professor Vajira H.W. Dissanayake, renowned Architect Deshanbandu Surath Wickramasinghe, Hemas Holdings Chairman Husein Esufally, Prof. Roger Eccleston of Sheffield Hallam University, UK and Prof. Andris Stelbovics of Curtin University, Australia, among a host of dignitaries.

Sri Lanka's leading provider of quality higher education, recognised as the pioneer degree awarding institute, approved by the University Grants Commission (UGC) under the Sri Lanka Universities Act has so far produced over 9,500 graduates and 17,000 professionals across a range of degrees from Information Technology to business management and also from engineering to hospitality management, offering a multi-disciplinary approach that represents the future of global education.

In his address to the graduands, faculty, stakeholders and parents, Professor Gamage reiterated that one of SLIIT's successes is that it adapts and draws upon the best examples of education and the use of technology to provide students with opportunities that previous generations did not have.

"SLIIT has a phenomenal legacy and a story that places us among the Nation's premier higher learning institutions," said Gamage. "We are definitely the most progressive and agile institution in higher education in our Country today and I'm extremely confident that our graduating students who had made the biggest decision of their lives so far in the kind of higher learning centre they had chosen, will be globally job-ready from this moment on," pronounced Gamage.

SLIIT offers Master's degrees in the fields of Information Technology, Information Systems, and Information Management, Cyber Security approved by the Ministry of Higher Education. In 2007, Sheffield Hallam University (SHU) started offering its MSc in Enterprise Application Development, MSc in Logistics and Supply Chain management and MSc in Telecommunications and Electronic Enginering degrees jointly with SLIIT. This programme was jointly designed by SLIIT, SHU, and Sri Lankan Software Industry.