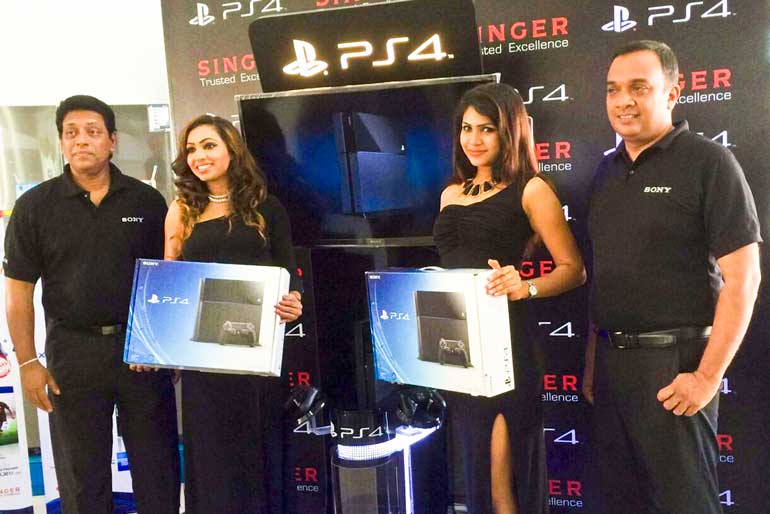 Singer Sri Lanka Deputy Director – Operations Chandana Samarasinghe (extreme left) and Marketing Manager – Electronic and Digital Media Vajira Thennakoon (extreme right) at the launch of the PlayStation 4 (PS4) in Sri Lanka

– Pix by Daminda Harsha Perera
Singer Sri Lanka introduced the PlayStation 4 (PS4), Sony's latest gaming console, to its Sri Lankan clientele at an event held at its Mount Lavinia Singer Mega showroom on Wednesday.

The PlayStation 4 gives players high-quality technology and graphics as well as one of the most visually-realistic gaming experiences available on console.

Speaking at the launch, Singer Sri Lanka Plc Director Marketing and Commercial Mahesh Wijewardena stated that Singer was committed to developing the distribution and marketing of home entertainment devices and software. He also stated that the PS4 would be an exceptional addition to Singer's range of home entertainment offerings.

Backed by its leading position in the electronic consumer products distribution sector, Singer offers consumers this next generation console which boasts exclusive games and online content.

Sony's PlayStation 4 is powered by an 8-core x86-64 AMD CPU and 8GB of GDDR5 RAM plus local hard drive space. It weighs 2.8kg and features an asymmetrical design with touch-sensitive power and eject buttons.

The console also includes a 'suspend mode' which allows players to instantly suspend gameplay at any moment and resume playing at a different time and date.

To celebrate the launch of the console, Singer organised a gaming competition for guests and enthusiasts at the showroom. Five gaming booths showcasing the console as well as some of its popular games enabled guests to experience the power of the platform.

Singer will offer customers a bundled package for the PS4 and will include the console, two controllers and two games at the price of Rs. 120,999. The PS4 as a standalone unit will be priced at Rs. 79,990 and will be available on a 36-month easy payment scheme for credit card holders. Singer will offer two games – FIFA and GTA V – with the bundled package.