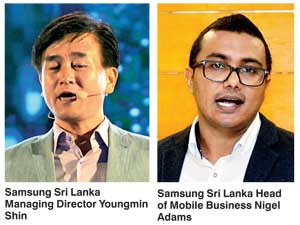 Samsung Sri Lanka on Friday unveiled the much-anticipated Samsung Galaxy S8 and S8+ to the Sri Lankan public.

An exceptional night packed with outstanding entertainment, performances by Sri Lankan musical legends and huge public participation marked the unveiling of Samsung's flagship devices, as a night to remember at the Nelum Pokuna.

As Samsung's trail blazing devices, the Galaxy S8 and S8+ usher in a new level of functionality and convenience, opening up a world of unlimited possibilities to consumers, says Samsung Sri Lanka Managing Director Youngmin Shin.

"While pushing the boundaries of traditional smartphones with an exclusive seamless hardware design, the Galaxy S8 and S8+ are equipped with a stunning Infinity Display that gives an immersive viewing experience," he added.

Building on Samsung's heritage of creating stunning designs and functional devices, Galaxy S8 comes in 5.8-inch Galaxy S8 and 6.2-inch Galaxy S8+.

"The unique and innovative Infinity Display and bezel-less design ensure a smooth, continuous surface without buttons or harsh angles. The compact design also guarantees a comfortable one-handed operation," Shin added.

Along with the new design innovations, Samsung consistently delivers cutting-edge technological rewards SUCH as a premium camera, enhanced functionality and power packed devices embraced by users for high performance delivery. The highly advanced 8MP F1.7 contains a smart autofocus front camera and 12MP F1.7 Dual Pixel rear camera to capture the best shots in low-light with the facility to zoom and shoot anti-blur photos with enhanced image processing.

In bringing an exceptionally powerful level of performance and connectivity within the reach of today's consumer, the Galaxy S8 and S8+ comes equipped with the industry's first 10nm processor, assuring heightened speed and efficiency.

When it comes to entertainment and watching your favourite shows, the Galaxy S8 and S8+ give a cinematic viewing experience with vibrant colours and contrasts, as the world's first mobile device certified by the UHD Alliance as "Mobile HDR Premium."

The Galaxy S8 and S8+ are built on Samsung Knox, a defence-grade security platform that ensures a Global Standard in Mobile Security. The Galaxy S8 and S8+ offer a wide selection of biometric technologies including a fingerprint scanner, iris scanner and facial recognition mode that gives users a secure method of biometric authentication best suited to their needs.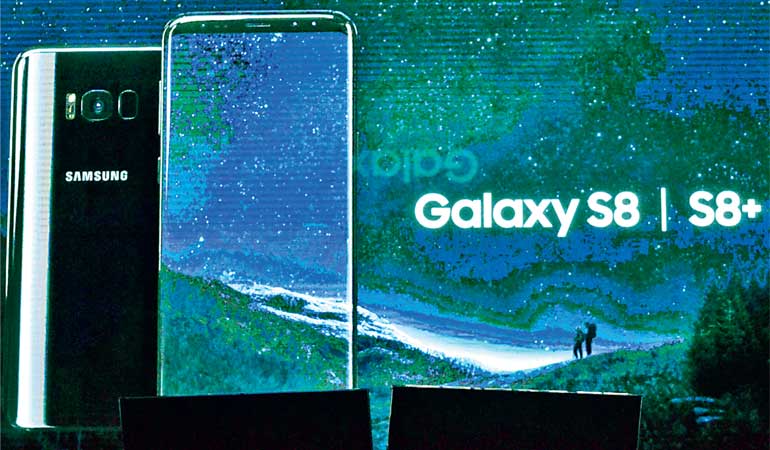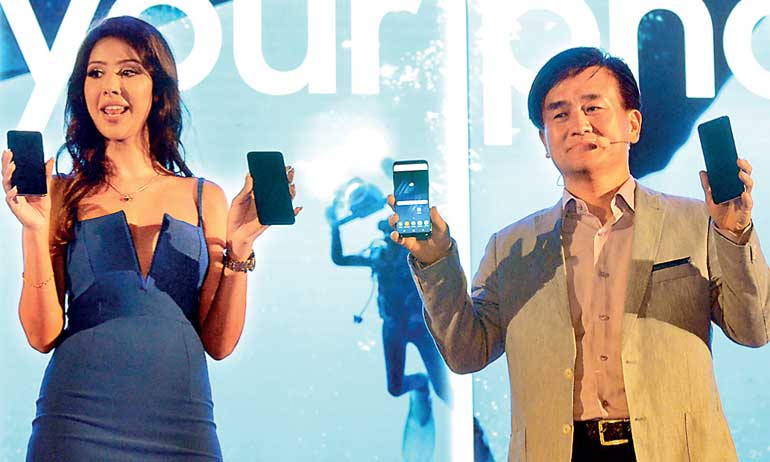 Samsung Sri Lanka Managing Director Youngmin Shin (right) and a model display the Samsung Galaxy S8 smartphones during the ceremony to launch the phone on Friday in Colombo
The Galaxy S8 and S8+ are also equipped with the standard Galaxy features that Samsung customers prefer, including IP68 water and dust resistance, MicrosD support up to 256GB, always- on display, and a fast wireless charging capability.

The highlight of the Galaxy S8 and S8+ is Bixby, an intelligent interface that optimises interaction with your phone. Using the new Bixby button, you can conveniently access a host of services that enhance convenience via apps, with simple voice, touch, vision and text commands.

The new high-performance earphones on Galaxy S8 and S8+, tuned to AKG by Harman, ensures uncompromised audio with unbeatable sound quality and comes as an in-box accessory. Designed with a comfortable hybrid canal fit for better noise cancellation, the earphones are made from anti-tangle metal-fabric material.