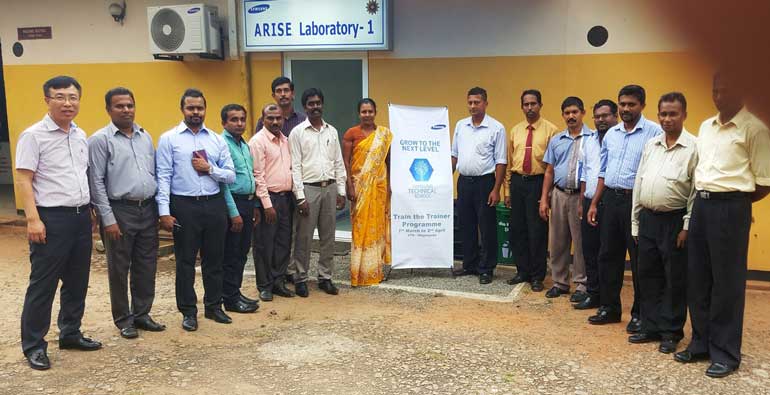 Samsung Electronics Sri Lanka, following its partnership with the Vocational Training Authority and as a part of its Corporate Social Responsibility initiative, is set to produce engineers specialising in repairs of televisions, washing machines, microwave ovens, refrigerators, air conditioners, audio visual devices and mobile phones.

The foundation for this ground breaking initiative named 'Samsung ARISE (Samsung Advanced Repair and Industrial Skills Enhancement)' program was established with the signing of the Memorandum of Agreement (MoA) between Samsung Electronics and the Ministry of Skills Development and Vocational Training in October 2015. The collaboration saw the setting up of a facility for theoretical training and a lab for practical training, both with seating capacities of 20 each at the District Vocational Training Centre in Veyangoda.

The wide array of courses offered by the Vocational Training Authority will be complemented during the last two-three months, depending on course type, by specialised training sessions on Samsung products. These courses will further enhance the students' technical capabilities, thus arming them with additional skills that will give them a distinct advantage over others, thus improving their employment opportunities in the competitive job market. Commencing from 7 March, Samsung's Customer Satisfaction Academy Trainers had been offering a 'Train the Trainer' program aptly named 'Teacher Training Program' that sets the stage for teachers and instructors to gain theoretical and hands-on experience on Samsung products. This course ran till 2 April, to arm the said teachers and instructors with the necessary qualifications to train students on the Samsung specialised courses. Samsung Electronics Sri Lanka Managing Director Youngmin Shin said, "Due to the strong presence that Samsung has in the Sri Lankan market, students who enrol for the Vocational Training Authority's courses will enjoy the added advantage of having the skills necessary to serve a large number of vendors and consumers." He further added, "We are excited about working with the Ministry of Skills Development and Vocational Training to offer world-class vocational training to students who aspire to become sought after technicians and mechanics." The comprehensive training programs offered under this collaboration will serve as a stepping stone for students who are seeking to nurture careers in the dynamic word of consumer electronics.