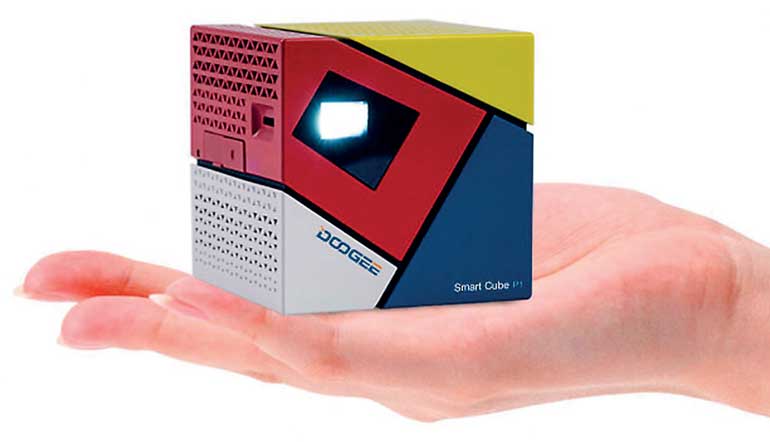 The Doogee Smart Cube Projector, an innovative, entire big screen portable media (entertainment/presentations) system which could be used at home or for office work, was recently launched by Sala Enterprises, a renowned company in Sri Lanka's information and communications industry.

This amazingly small projector is about the size of a Rubik's cube (62mm x 62 mm) weighing only 290 grams, packed with a 70 lumen LED coupled with an Amlogic quad core processor, 1 GB Ram, 8 GB storage and also includes two 1.2W speakers. It runs on an Android and IOS. The wireless connectivity is through bluetooth or 2.4 Ghz WIFI. The smart cube has a USB port for charging or connecting accessories and a micro USB for charging its 4800 mAh battery. The USB OTG port can be used to add storage as well. The projector quality is stunning considering the size of the device. A small dial on the side allows the focus to be adjusted.

The smart cube could be used on a playback media directly from the onboard or USB storage (pen drive) without the need for any other devices. This makes the smart cube entirely self-contained as a media system, which is simply an amazing system. However, if other devices are to be connected, the USB port makes way for a share hub to be attached allowing the use of a keyboard, mouse, presenter, speaker etc. simultaneously. This will definitely create an impression on whatever that is presented. The Smart Cube has been designed to be used as a computer as well to browse the internet and it allows mirror casting as well.

This small device comes with a 4800 mAh battery allowing it to be used continuously for three hrs. As it has a USB port, it also gives the option of charging your mobile phone in an emergency. Last but not least, when compared with other conventional projectors, this wonderful little projector with a LED projector light has a lifespan of 30,000 hours. On the whole, considering the fact that this device is portable and compact packed with all the features, entertaining and presentations will be convenient like never before.

Sala earning a reputation for the past 24 years by introducing innovative products to the market, has done it again! The company has broken new ground by launching this Doogee Smart Cube projector. Sala also markets many reputed brands such as Prolink, Fujitsu, Delux, Emarc, Prosat, Huntkey, Beacon, Edifier and Divoom. Sala believes in providing customer satisfaction with a dependable after sales service and quality products supported by our trained and experienced staff. Sala has diversified into GSP solutions by providing Sala Prosat, which is the navigation system and other vehicle tracking systems as well. Sala believes in providing the latest of technology, high in quality at an affordable price. For more information log onto: www.sala.lk.