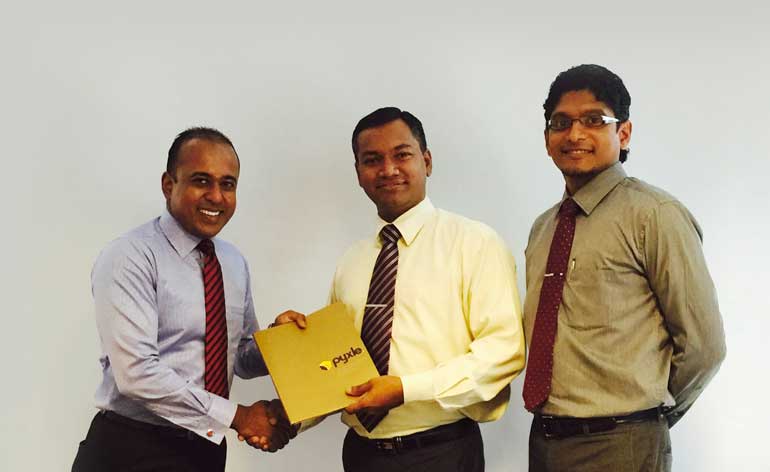 From left: Charaka Perera, Head of Business Asia, EU/US & Africa, Hassani Group with Pyxle's Oshada Senanayake, Director Operations and Sanjeew Perera - Head of Marketing.
---
Hassani Group of Companies, one of the most prestigious and fastest growing global conglomerates in the Middle Eastern region operating in over 70 countries, officially launched its global web portal closely aligned with the company's strategic vision for growth.


Expanding on its global footprint in strategic web solutions, Pyxle, Sri Lanka's premier internet solutions provider was engaged as the strategic web partner for Hassani Group to launch the new website which captures the essence of the company, including its diverse business verticals that include industrial manufacturing to trading and distribution across the globe. Designed and developed by Pyxle, the new web portal www.hassanigroup.com features the subtle use of the latest design concepts, optimised digital content and performance optimised to cater to diverse geographies with varied internet infrastructure for ease of access to information. The new site also utilises a mobile responsive design and is accessible on mobile and tablet devices with diverse screen resolutions and sizes, creating a more in-depth user experience. Showcasing Hassani's corporate and global presence – the divisions and subsidiaries, the new site creates further awareness of its wide range of products offerings and the impact these have on people around the globe.


Hassani's five major focus business categories; Trading and Distribution, Manufacturing, Food Manufacturing, Retail and Services and Real Estate and Contracting are now displayed in one web presence.


"We recognise the web as a key tool in the further growth of the company, linking the global markets to prosperity," said Hassani Group Head of Business Asia, EU/US and Africa Charaka Perera. "Our goal in launching this new website is to provide a more access point and online resource for companies and individuals to learn more about our company and product solutions, and also to take visitors through a timeline of country history."


Commenting on the company's reason for selecting Pyxle as its digital solution provider, he noted, "We chose Pyxle as we wanted a truly differentiated digital experience that today's consumers expect. The flexible approach to articulate concepts especially by understanding the client's mindset is a unique facet in the Pyxle team. Understanding the corporate culture and governance in a company overseas is a key to formulating design plans. The support extended by the Pyxle Team must truly be commended."

Understanding Hassani Group's core requirement Pyxle has brought its cutting-edge skills and experience to this initiative – combining deep industry knowledge, technology expertise and a global track record for delivering digital transformation projects.


"Our unique technology capabilities coupled with best practices garnered over a decade of providing strategic solutions for corporates had a significant impact on offering the Hassani Group a truly digital web presence," noted Pyxle Director Operations Oshada Senanayake. "With its new corporate web presence, Hassani Group is better positioned to turn its digital presence into a key channel to leverage for further aggressive growth across its diverse interests," Senanayake added.