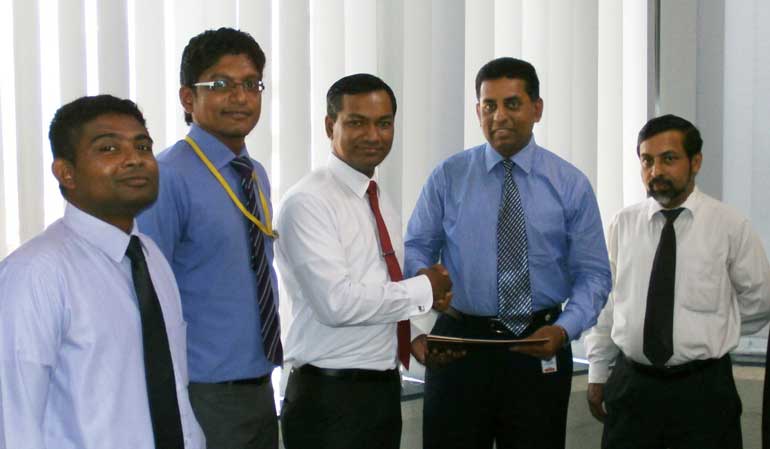 Oshada Senanayake, Director Operations, Pyxle and Clement Fernandopulle, General Manager IT, UAG exchanging the sign-off agreement. Also pictured L to R - Buddhika Perera, AGM IT, UAG, Sanjeew Perera, Manager Business Development, Pyxle and Wasantha Welikala, Manager IT, UAG.
Pyxle, a premier internet solutions company, recently developed a highly-intuitive,modern and responsive website including customer friendly features for Union Assurance General Ltd. (UAG), the recently segregated arm of Union Assurance (www.uageneral.com).

Highlightingits new business model, the new website is UAG's ongoing endeavour to simplify insurance information and portray its own product portfolio.

The new website reflects a clean design with a user-friendly layout and easy navigation structure, making it effortless for policyholders to gain easy access to information about its products and services.

"We understand the importance of serving our customers' insurance needs when it matters most," said Clement Fernandopulle, General Manager IT at UAG. "Our new site is designed to be our customers' first stop for insurance; information, solutions and insight. Its expanded focus allows us to offer best-in-class online support to meet our customers' needs."

The solution is a fully-fledged mobile enabled website with multi-lingual features, a clear categorisation of products under UA General i.e. motor, home, travel, marine, etc. In addition, an interactive 'need-based' feature was incorporated to facilitate users to find their 'best fit' insurance package by directly addressing their unique needs.

The website also offers customers detailed product information online and at their fingertips without having to visit a branch. A novel feature is the 'call back' concierge service, allow customers to request an insurance agent contact them for further inquiries.

"Our goal was to provide a valuable resource in one location to help consumers make informed insurance decisions. Pyxle has developed our newly branded website enabling us to keep our existing customer base aware of company news and new developments whilst helping attract new clients."

The new website not only provides comprehensive product information, but it also offers online users the ability to manage their accounts, check claim status, obtain policy information, and download claim forms with ease. More importantly, the website aims to educate and provide relevant information about supplemental insurance products while giving customers a positive online experience.

"The new design strongly portrays the UAG brand," noted Oshada Senanayake, Director – Operations, Pyxle. "This website enables UAG to better serve today's consumer and position well for ongoing shifts in consumer technology adoption. By coupling a multi-device presence we are not only delivering the ideal customer experience, but offering a truly integrated presence that will deliver results."

Other main features of the newly launched website include; a Google map based branch locator, a comprehensive media centre including corporate news, PDF downloads, etc., detailed information on sustainability showcasing the its CSR initiatives, up-to date informationon the financial stability of the organisation and a 'careers' section to attract potential new employees.